James McQuilkin: Torquay United midfielder 'fighting for career'
By Brent Pilnick
BBC Sport
Last updated on .From the section Football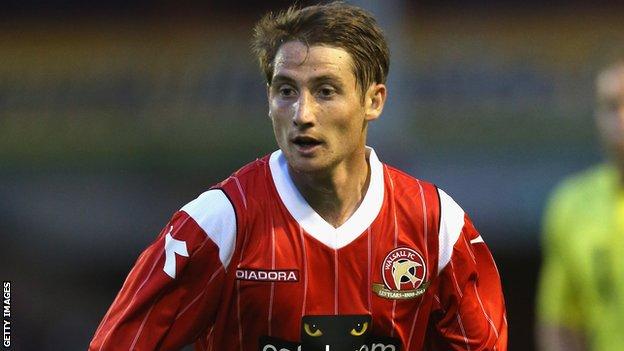 Torquay manager Chris Hargreaves says midfielder James McQuilkin is "fighting for his life" as a footballer.
The 25-year-old having been released by Walsall in the summer.
"He's a good footballer, got a great attitude, played before at a good level and is fighting for his life, which is why he's at Torquay," he said.
"We are able to say to him 'we can't pay you, but what we can do is get you on the football pitch'."
McQuilkin made has debut for Torquay in their on Saturday, and Hargreaves says his quest to play football has impressed him.
"The desire takes over any money he earns and he wants to carve out a career and I'm going to give him the chance to do that hopefully," Hargreaves told BBC Sport.
McQuilkin joins former Plymouth Argyle full-back Durrell Berry as the second non-contract player to join Torquay this month.
And whilst Hargreaves is he says the club's finances are so tight he does not expect any more new faces to come in as he tries to help chairman Thea Bristow cut the club's wage bill.
"Durrell's covered in that respect with the bits and bobs we've done on loans.
"We're doing our best in a league where there's some good teams.
"Thea's magnificent, she's a brilliant woman trying her best for the club.
"If it weren't for her I don't know what might have happened, but at some point it has to stop for her because it's too much money going out.
"As well as trying to manage the club I'm trying to bring the budget down which we have done in a massive way to make it more sustainable. So any players we do get will gave to pay me."