Arsenal 'mid-table' without Alexis Sanchez - Ian Wright
Last updated on .From the section Football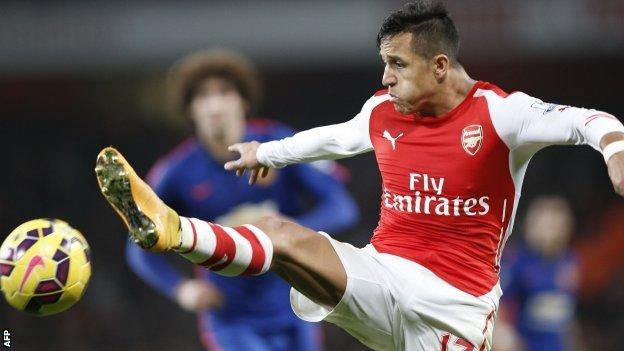 Arsenal would be "mid-table" without Alexis Sanchez, says former Gunners striker Ian Wright.
But even with the Chile striker, Wright has questioned whether Arsenal can claim a top-four Premier League finish to qualify for the Champions League.
Arsenal are currently eighth and two points behind fourth-placed Manchester United, who beat them on Saturday.
"If it wasn't for Sanchez, where would they be now?" said Wright on the BBC Radio 5 live 606 show he co-presents.
"They are mid-table without Alexis Sanchez."
Sanchez was signed for £35m from Barcelona last summer and has scored 12 goals in 19 games for his new club so far this season.
But the north London club have lost three of their last seven league games - winning just two and drawing two - as they have made their worst start to a season in 32 years.
"I can't see Arsenal getting in the top four at the moment," said Wright.
Gunners boss Arsene Wenger is coming under increasing pressure, with some fans booing his side after their defeat by United last weekend.
When asked whether the 65-year-old Frenchman should go, Wright said: "It's very frustrating. It's getting to that time now."
Arsenal shareholder Alisher Usmanov is the club's second largest shareholder with a stake of "more than 30%" but has revealed he has no say on deciding Wenger's future.
The Russian billionaire described the Gunners boss as "one of the greatest coaches" but told CNBC: "Everybody makes mistakes.
"He can make mistakes and I know as you age it is more difficult, more challenging to accept one's mistakes. Maybe it is a problem today."