Casey Stoney: Wembley game a tantalising glimpse at the future
Last updated on .From the section Women's Football

As dawn broke through the murk on Sunday before England's historic fixture against Germany at Wembley, I was presented with a tantalising glimpse of the future.
Although I was not in the squad because of injury, manager Mark Sampson had invited me and other players to spend time with the group in the build-up to the match and involve all those who might be in contention for next year's World Cup in Canada.
That included spending the night in the team hotel before the game, and as the other players rested before kick-off, I was in the gym staring right at the Wembley arch as I pounded the treadmill and did my weights. As far as carrots go, it could not have been more enticing.
Later that day we saw England women play their first match at Wembley in front of a record crowd of 45,619. The 3-0 loss might have been a disappointing but I think the occasion more than justified having more women's fixtures there and hopefully we will now see regular games at the home of football. It was another huge step forward for women's football.
Having been captain of the Great Britain team the last time many of the girls played at Wembley during the 2012 Olympics, it was a different experience for me. I was gutted I couldn't be involved but watching from the sidelines, I have to say the atmosphere was absolutely electric. It's not something you notice too much if you are playing but there's a big difference when you get a huge crowd at an England women's game compared to a men's game.
The fans really get behind the team and cheer every surge a player makes. There isn't that slightly pessimistic approach you sometimes see with the men's team. It's just unfortunate we couldn't get a goal for the fans to celebrate.
The scoreline might have taken the sheen off the occasion but it could turn out to be the best result possible as the team counts down to next summer's World Cup in Canada.
Coming through qualification with a 100% record was an amazing achievement but there was a danger it could have given us a false sense of security and in the first half perhaps you could sense that. That won't be the case anymore. Germany showed why they are European champions and will be one of the favourites for the World Cup. Now we have to try to match that.
They were ruthless in attack, physically stronger and showed a lot more intelligence. For the younger players in our team it was a first taste of playing against a footballing superpower on the big stage and they found out it is a lot different to playing Ukraine or even Sweden in front of a small crowd.
Maybe we were naive at times; we tried to impose our game on the German team but perhaps we needed to choose when to attack more carefully. Committing players forward left us open to counter attacks and the second goal was a good example of this. Germany were clever enough to invite us into their final third and then hit us quickly. We didn't really get to grips with that.
Although we improved in the second half, the game was over by half-time but the important factor is that everyone will learn from this performance. Individually and collectively, we will need to defend better against more established teams and there is plenty of hard work to be done between now and Canada. Having crashed out of the 2013 European Championship without winning a game, it was a harsh reminder of the standards we must reach.
The other new experience for me on Sunday was taking my family to the game for the first time. My partner Megan gave birth to our twins just over two weeks ago, and we decided to ease them in with a nice, quiet game at Wembley! I even got to take them down the tunnel and out on to the pitch at one point so they haven't had a bad introduction to football.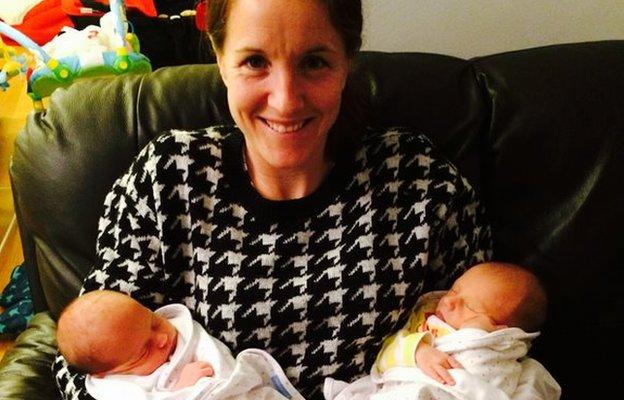 It's been a whirlwind fortnight but, without tempting fate, we have been quite lucky in that Teddy and Tilly haven't been too difficult so far. I managed to have a week off but I am still training even though it is the end of the season.
Later this week I am off on a tour of Japan with Arsenal so it shows you that being a woman footballer is a full-time job now. I don't really want to leave my babies so soon but sometimes you don't get a choice.
I am very fortunate to have a partner who is a former footballer and understands the demands of the game. Megan knows how much I want to make it to the World Cup and she understands how football has been my life for the past 15 or 20 years. She wants me to do well more than anybody.
We are also lucky that we have fantastic family and friends to support us too and I'm not sure I'll ever be short of babysitters.
The England squad had a little party after the game on Sunday to celebrate reaching the World Cup and the fact we achieved a record crowd at Wembley. All the players were enjoying cuddles with the twins and it was difficult to get them back as they did the rounds. It rounded off a special couple of weeks.
Overall, the reaction has been so positive to us becoming parents.
There has been one occasion where my brother had a work colleague making a derogatory remark about us, but I guess that is just the way some people view two mothers being parents. My brother put them in their place!
Despite that anomaly, I've never felt happier or more proud and becoming a parent has opened up a whole new part of my life which has already brought out a more caring side to me. My maternal instincts have certainly kicked in.
One way or the other, I hope I can put that to good use in a professional environment too by helping younger players when the going gets tough. The next six months will be a huge challenge for lots of reasons but after one of the best years of my life, I'm looking forward to embracing everything that comes my way.