Alex Horne: FA will not boycott World Cup over bid allegations

By Richard Conway
BBC Radio 5 live sports news correspondent
Last updated on .From the section Football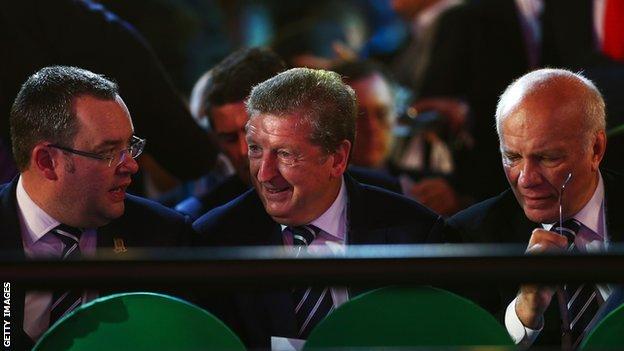 The Football Association says it has no intention of boycotting the 2018 and 2022 World Cups in Russia and Qatar.
But FA general secretary Alex Horne insists England will not use the threat of withdrawal to put pressure on Fifa.
"The World Cup is a fantastic tournament and we want to be playing in it," he said.
"To link the two issues is extreme. I don't see us boycotting the World Cup."
Triesman, who was initially appointed chairman of England's unsuccessful bid to host the 2018 World Cup, said world football's governing body Fifa would only root out possible corruption if pressured to do so by its European counterpart Uefa.
"I think Russia will resist it, but the fact is that the most powerful of all continental football groups is in a position to influence [Fifa]," the 71-year-old told Sky Sports.
Four years of controversy
2 December 2010 - Russia and Qatar are chosen to host the 2018 and 2022 World Cup. There are fears over the dangers of playing games in Qatar temperatures that can reach 50C
4 October 2013 - Fifa agrees to set up a taskforce to look into alternative dates for the 2022 World Cup in Qatar
1 June 2014 - The Sunday Times alleges that former Fifa vice-president, Mohamed bin Hammam, paid £3m to football officials in return for support for the Qatari bid
1 June 2014 - Qatar's 2022 bid committee issues a statement denying "all allegations of wrongdoing"
5 September 2014 - The report into the 2018 and 2022 World Cup bidding process is submitted to Fifa by Michael Garcia
27 September 2014 - Sepp Blatter rejects calls for the report to be made public
13 November 2014 - Fifa release a 42-page summary of the Garcia report which clears Russia and Qatar of corruption over their respective World Cup bids
13 November 2014 - Garcia claims the summary of his own report is "materially incomplete" and contains "erroneous representations"
20 November 2014 - Garcia and Fifa ethics judge Hans-Joachim Eckert agree to release the full copy of the report to the organisation's compliance chief, Domenico Scala
Fifa released a 42-page summary report on 13 November into alleged corruption regarding the bidding process for the 2018 and 2022 tournaments which cleared Russia and Qatar of corruption.
However, United States attorney Michael Garcia, who conducted the two-year inquiry, said the summary report contained "numerous materially incomplete and erroneous representations".
Garcia and Fifa ethics judge Hans-Joachim Eckert have now agreed to allow the head of Fifa's Audit and Compliance Committee, Domenico Scala, to access all of their findings.
Scala will then decide whether the full investigation is passed on to Fifa's Executive Committee, leaving the door open to a possible re-vote.
Fifa general secretary Jerome Valcke admits that the row over the report has damaged the organisation's standing, and that it may take many years to restore its credibility.
"The image of Fifa is something that I agree, over the past two weeks, has - I will not say reached the bottom - but has reached a level which is definitely a level which will not go lower than that," he said.
"We have to rebuild this image day after day. It's easy to destroy the reputation, it takes one second. It takes years to rebuild our reputation but that is what we will do."