Fifa 'corruption' report: Serious Fraud Office in information appeal

By Richard Conway
BBC Radio 5 live sports news correspondent
Last updated on .From the section Football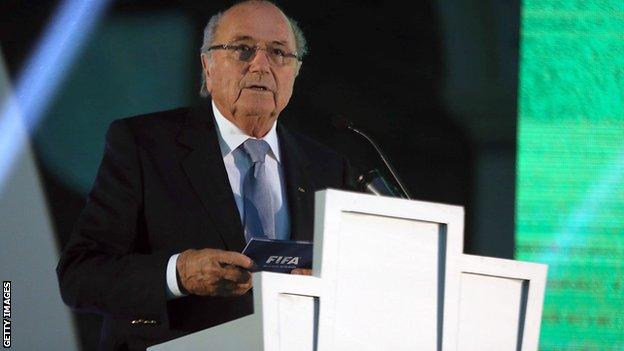 The Serious Fraud Office wants anyone with information regarding alleged corruption in the bidding for the 2018 and 2022 World Cups to come forward.
The SFO insists it currently lacks the relevant jurisdiction to investigate.
But in a letter to Conservative MP Damian Collins, seen by BBC Sport, the SFO's general counsel Alun Milford admits the organisation is appealing for "whistleblowers" to get in contact.
The development creates the possibility of Fifa facing a UK criminal probe.
"Plainly, the Serious Fraud Office welcomes any additional information that may assist in determining whether a criminal investigation should be opened," Milford states in the letter.
"I encourage anyone with relevant information to come forward and discuss it, in strict confidence, with our Intelligence Unit. The easiest way for any whistleblowers to contact us is through the SFO confidential email address.
"You can be assured that every reasonable line of inquiry, including working closely with appropriate overseas authorities, is being pursued to ascertain whether the director has grounds to open an investigation."
Four years of controversy
2 December 2010- Russia and Qatar are chosen to host the 2018 and 2022 World Cup
4 October 2013- Fifa agrees to set up a taskforce to look into alternative dates for the 2022 World Cup in Qatar
1 June 2014- The Sunday Times alleges that former Fifa vice-president, Mohamed bin Hammam, paid £3m to football officials in return for support for the Qatari bid
5 September 2014- The report into the 2018 and 2022 World Cup bidding process is submitted to Fifa by Michael Garcia
13 November 2014- Fifa release a 42-page summary of the Garcia report which clears Russia and Qatar of corruption
13 November 2014- Garcia claims the summary of his own report is "materially incomplete" and contains "erroneous representations"
20 November 2014- Garcia and Fifa ethics judge Hans-Joachim Eckert agree to release the full copy of the report to the organisation's compliance chief, Domenico Scala
BBC Sport understands the email address has been passed on to Fifa whistleblowers Phaedra Al-Majid and Bonita Mersiades, who worked for the Qatari and Australian bid teams respectively.
Reports in the US have linked the FBI to a possible Fifa investigation and last week Al-Majid told BBC Sport she had been visited by Federal agents in 2011.
An adjournment debate in the House of Commons on the SFO's ability to investigate is scheduled for next Monday.
The SFO's intervention also comes on the same day that the Culture, Media and Sport secretary, Sajid Javid MP, wrote to Fifa president Sepp Blatter asking him to release the full contents of a 430-page report produced by Fifa's ethics investigator Michael Garcia into corruption allegations.