FAI backs chief executive John Delaney after song controversy
Last updated on .From the section Football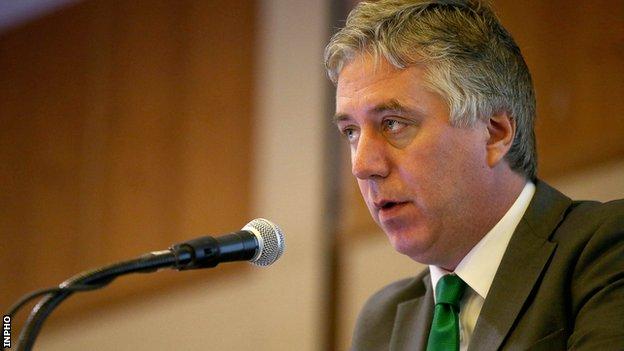 The Football Association of Ireland has backed chief executive John Delaney in the wake of the controversy surrounding his singing of an Irish Republican song in a Dublin bar.
FAI president Tony Fitzgerald said that the association was "happy to bring the matter to a close.
Fitzgerald added that Delaney would continue in his role.
"He has done an enormous amount for Irish football. In the past year alone the winning of Euro 2020 bid for Dublin adds to a number of very important developments he has helped oversee during his tenure," added the FAI president.
"We recently awarded him a contract extension to 2020 and he is fully deserving of that."
Delaney was videoed giving a rendition of a song about Belfast man Joe McDonnell who was one of the IRA hunger strikers who died in 1981.
The FAI chief executive sang the song in a Dublin bar after the Republic of Ireland's 4-1 win over USA on 18 November and a video was later posted on YouTube.
The timing of the video of Delaney's singing was potentially embarrassing to the FAI, with the Republic of Ireland taking on England in Dublin in June.
Lyrics from Ballad of Joe McDonnell which John Delaney was filmed singing
Who died unselfishly
And Patsy O'Hara, and the next in line in me
And those who lie behind me
May your courage be the same
And I pray to God my life was not in vain
Speaking to Irish broadcaster RTE on Tuesday, Delaney apologised for the controversy.
"If the song offends anyone of course I'm sorry," said the Waterford man, 47.
"When you sing a song like that, you don't believe in every word that is in the song."
The song was written by Irish folk band the Wolfe Tones as a tribute to IRA member McDonnell who died in 1981 after being on hunger strike for 61 days.
McDonnell had been imprisoned in 1977 following a bomb attack on a shop the previous year.
Speaking to Ryan Tubridy on RTE's 2FM, the FAI chief said that the video had been recorded in a "sly way" but insisted that he did not agree with the song's lyrics.
The lyrics which Delaney was filmed singing included a reference to another hunger striker Patsy O'Hara who also died during the 1981 jail protest.
"Joe McDonnell is a song that has been sung in my presence and I chipped in on a number of occasions in the past," added Delaney.
"I'm not someone who supports violence at all. In fact over a large number of years I have been working closely with cross-border initiatives in football to break down barriers.
"I'm not a violent person. My grandfather fought in the Civil War and he also fought in the War of Independence. I have always said I have a nationalist background."
The FAI chief sang the Republican ballad on the same night that some England supporters directed anti-IRA chants towards Scottish fans at the international game at Glasgow's Celtic Park.