Simon Petulla named new Jersey women's football manager
By Brent Pilnick
BBC Sport
Last updated on .From the section Football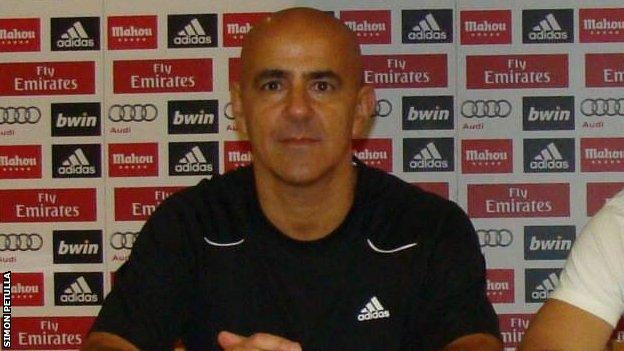 Jersey's Football Association have appointed Simon Petulla as the new manager of the island's women's team.
The ex-Jersey striker has previously been involved with Grouville's women.
He succeeds Geoff van der Vliet, who ended his time as island manager after a in their annual Muratti clash.
"I've been involved in Murattis and I've won an Island Games, so I know what it takes to win both," Petulla told BBC Sport after his appointment.
Petulla was part of the Jersey side which won the 1997 Island Games gold medal on home soil and Jersey will host the Games again next summer.
"We'll work a lot on fitness because once the Muratti is out of the way it's the Island Games and I think the fitness levels will need to be improved, especially with a week-long football tournament.
Simon Petulla
"Things are looking good for the future of ladies' football."
"I really feel we have a good chance of getting a medal," added Petulla on Jersey's chances at the Island Games.
"If we can get our strongest XI together I feel they'll be a match for anybody."
And having won an Island Games on home soil, Petulla believes he knows how to get a repeat performance in 2015.
"The main thing is the passion and the crowd.
"You don't want to let anybody down, so it gives you that extra 5% or 10% that you need to pull you through the tight games.
"The crowd can play a massive part and if we can get big crowds that could be that little defining factor that gets you over the line."
Last week the JFA in an attempt to get more competitive games for island sides.
Petulla says he is hopeful of getting a number of friendly games for his side before the end of the season.
"There was already talk of the navy or army coming over to play us and possibly Guernsey coming over for a three-way tournament.
"There was little tournament with the Isle of Wight and Isle of Man which we will do again next year, so the idea is that once Brian Little gets settled the object is to try and get a game a month.
"We've already been promised a regular slot on the new Springfield pitch, so we can have a regular training session every week as well.
"Things are looking good for the future of ladies' football."