Franz Beckenbauer: Fifa inquiry over World Cup selection process
Last updated on .From the section Football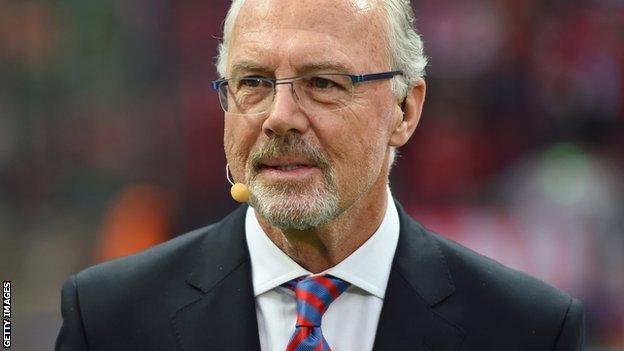 Germany's World Cup-winning captain and coach Franz Beckenbauer is being investigated over his part in picking Russia and Qatar as World Cup hosts.
Prospective Fifa presidential candidate Harold Mayne-Nicholls, who led Fifa's pre-decision inspection of the bidding nations, is also under investigation.
Ethics chief Michael Garcia is also investigating three Fifa executives.
All three are current members of the world governing body's executive committee - they are Spain's Angel Maria Villar Llona, Michel D'Hooghe from Belgium and Worawi Makudi from Thailand.
"Last Wednesday I went to Zurich to give all necessary clarifications to the allegations," D'Hooghe told BBC Sport. "I was and am convinced that my answers completely clarified the whole situation, the more that I have nothing to hide."
Llona was the head of the Spanish/Portuguese bid for the 2022 World Cup and is the current head of the Spanish FA.
BBC Sport understands Uefa president Michel Platini - the only man to publicly declare that he voted for Qatar 2022 - has been cleared and is not the subject of any further investigation.
American lawyer Garcia opened formal proceedings against "a number of individuals" last week.
Earlier this month, Fifa published a summary report - which Garcia himself claimed was "incomplete and erroneous" - from his two-year inquiry into the bidding process.