'Kitchen' insult: John Cummings exit a 'witch-hunt' says league
Last updated on .From the section Football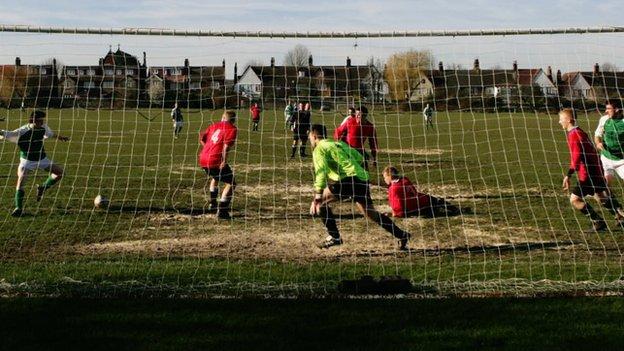 The North East Sunday League has described the treatment of official John Cummings as a "witch-hunt", and wants to know why the Northumberland FA did not take initial action.
League secretary Cummings told female referee Lucy May "a woman's place is in the kitchen and not on the football field", earning a four-month FA ban.
Northumberland FA removed the 77-year-old as vice-president on Wednesday.
"The NESL are disgusted at what appears to be a witch-hunt," a statement read.
The statement also called for explanations as to why the Northumberland FA took no action against Cummings before May's complaint was taken up by the Football Association.
NESL member clubs and officials voted in full support of Cummings in their own extraordinary meeting on Tuesday, and also voted that Joyce Cummings, John's wife, would take on his secretarial duties at the league for the duration of the ban, which ends on 15 February.
Northumberland FA's equality policy
The Northumberland FA, in all its activities, will not discriminate, nor treat anyone less favourably, on grounds of gender, sexual orientation, marital status, race, nationality, ethnic origin, religion or belief, ability or disability. The Northumberland FA will ensure that it treats people fairly and with respect and will provide access and opportunities for all members of the community to take part in, and enjoy, its activities.
Cummings made the comments to May at a referee's workshop in March, following her enquiry about refereeing in the NESL.
The 24-year-old was told she "wouldn't be able to handle it" and "it's nothing against you personally but all the time I'm alive, a woman will never referee in my league."
She subsequently made a complaint which prompted an independent investigation, with Cummings telling FA investigators his comments were a "standing joke".
In October, an independent FA regulatory commission, led by solicitor and former Blackburn Rovers player Stuart Ripley, concluded Cummings was guilty of a breach of FA rules relating to "abusive and/or insulting language", aggravated because of a specific reference to gender.
Cummings was banned, fined £250, and ordered attend an education programme before he returned to his position.
He had an appeal dismissed earlier this month and was ordered to pay £1,500 costs.
At that time Cummings had retained his position at the Northumberland FA, however the resignation of seven NFA members, including Premier League official Michael Oliver, who is May's fiancee, prompted an emergency meeting and Wednesday's verdict.
Northumberland FA's board and council said in a statement that the decision to revisit the case was a "necessary, proportionate and correct response to concerns raised both within the NFA, our member organisations and the general public."
It added: "Our unstinting work in promoting and nurturing women's football as well as our commitment to wider issues of ethics and equality has won the NFA much praise and we are determined to protect that reputation.
"The NFA prides itself on being a fair, democratic and ethical organisation and having listened carefully to a broad range of opinion has decided to take this decision.
"We would like to thank Mr Cummings for his long service to the NFA but it is the view of the Council that his position became untenable."