Robbie Savage: 'Why it is time to take Southampton seriously'
Last updated on .From the section Football

In his regular BBC Sport column, Robbie Savage looks at the statistics behind Southampton's early-season form, why the Saints are not missing the star players they sold in the summer, and whether they are genuine contenders for a Champions League place.
Southampton's start to the season has surprised everyone, but their real test is just about to begin.
Ronald Koeman's side take on Manchester City, Arsenal and Manchester United in the space of eight days from Sunday and how they get on will show us how good they really are.
I am backing Saints to push on and take six points out of a possible nine against some of their main rivals for a top-four place but, whatever happens next, it is time to take their challenge seriously.
It has been an amazing turnaround at St Mary's, after their manager and so many of their leading players left over the summer.
At the time, it would have been ridiculous to suggest they would be in second-place at the end of November, and the only team within six points of leaders Chelsea.
But now, especially with the top end of the Premier League looking so open, I think Southampton have got a great opportunity to break into the Champions League places.
Their biggest obstacle might not be other teams but the size of their squad and whether they can keep their key players fit.
A new team, doing better than the old one
Southampton had a great season in 2013-14, when they finished in eighth place, which is why Tottenham moved for their manager Mauricio Pochettino and there was so much interest in so many of their players.
Rickie Lambert, Calum Chambers, Adam Lallana, Luke Shaw and Dejan Lovren ended up being sold for a total of £92m and I was one of many people to think that meant Saints would struggle.
The amazing thing is that Southampton have not just coped without them, they have actually improved.
That is because, as well as out-performing the likes of Lambert and Lallana at Liverpool this season, their replacements are doing better in key areas than those players did were when they were at Saints too.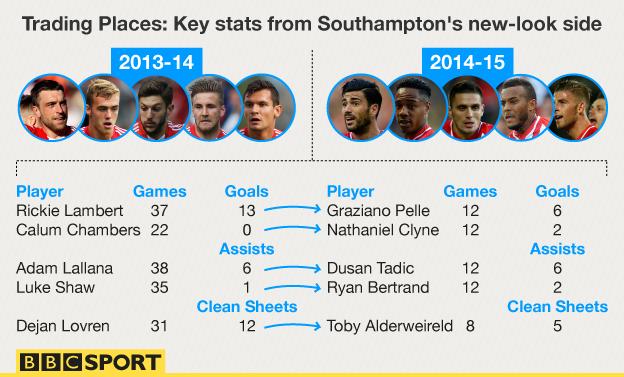 It is not luck that the new signings have done so well so quickly.
In the same way that the Saints' incredible youth set-up has produced so many stars, their player recruitment department has worked in tandem with the manager to bring the right men in.
That means finding players with a good attitude who are willing to work, and we have already seen what happens to those who aren't.
One of the few new arrivals not to be a success this season was Saphir Taider, who came in on loan from Inter Milan at the start of August as part of a swap deal with Dani Osvaldo.
Three weeks later, Taider was back in Italy, with a statement from Saints saying he "failed to live up to the high levels of commitment expected of Southampton players".
Saints are more than just a strong defence
Hard work seems to be the bare minimum expected under Koeman, and it has helped bring him those good results.
Saints have made the most tackles of any top-flight team this season, with an average of 23 per game, and their success has been built from the back.
Last season, under Pochettino, Southampton were excellent defensively. Since Koeman took over, they have been exceptional.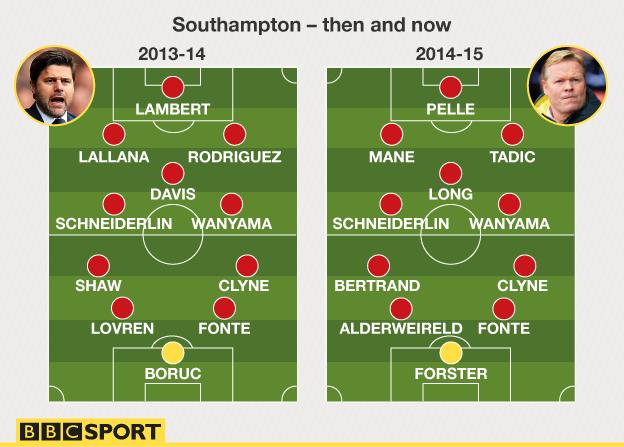 Their new-look team has had seven clean sheets and conceded only six goals in 12 league games, giving them the joint third-best defensive record in Europe's top leagues - Spain, Germany, Italy, France and England - level with Barcelona and behind only Bayern Munich (three goals) and Juventus (four).
That record is down to defensive discipline, not luck. Saints have faced the second-fewest total shots in the Premier League in 2014-15 (an average of 8.2 per game) and allowed the fewest on target (2.1).
A consistent line-up has definitely helped that organisation too. Just 15 players have started their 12 league games so far, the fewest by any Premier League side.
Seven of their players are ever-presents and it is no coincidence that they include goalkeeper Fraser Forster and three of their back four - Ryan Bertrand, Nathaniel Clyne and Jose Fonte.
Another important factor is confidence. Right now it will be sky-high.
I remember being at Leicester in the 2000-01 season when we were unbeaten and top of the league in mid-October, and still in the top four at Christmas.
Our self-belief was ridiculous and I saw something similar when I watched Saints draw 1-1 with Aston Villa on Monday.
Even when Southampton went behind, I knew from their body language that they were thinking that they were not going to be beaten.
Squad strength could decide Saints success
At the moment, Southampton will think they can beat anyone. Unfortunately that feeling rarely lasts, as I found out with Leicester when we lost nine out of our last 10 games and finished 13th.
Saints found out the same thing when they crumbled after making a similar start last season.
A win against leaders Arsenal on 23 November 2013 would have sent them top after 12 games but instead they lost and slipped to fourth, and won only one of their next nine league games.
The worry for Koeman will be that could happen again if he loses one or two key players, and is forced to test the strength of his squad.
His two defensive midfielders Morgan Schneiderlin and Victor Wanyama are a good example of how much certain players would be missed, because results dropped off when Wanyama suffered a hairline fracture to his leg in December last year.
Since Wanyama arrived at St Mary's in July 2013, when he and Schneiderlin have played together, Saints have conceded only 0.7 goals per game and won 53% of their league matches.
Without one or both of them, they have conceded 1.6 goals per game and won just 33% of their matches.
They are massively important to Saints and demonstrate how that position has become one of the most important in any team, from Cesc Fabregas and Nemanja Matic at Chelsea to Pierre Hojbjerg and Xabi Alonso at Bayern Munich.
When you have a strong pairing in front of your backline, it allows your full-backs to get forward, something we saw from Saints against Villa, when Bertrand set up Clyne to score the equaliser.
That is one of the areas where Koeman has a more ambitious approach than Pochettino, and a reason why Bertrand and Clyne already have more goals and assists than Luke Shaw and Calum Chambers managed in the whole of last season - something you can see in the 'Trading Places' graphic near the top of this piece.
Saints are not just better at the back, they are managing more shots per game and more shots on target per game than last season, and they should definitely keep on attacking against City, Arsenal and United too.
All three of those teams are suspect at the back at least partly because, unlike Southampton, they are using different combinations of defenders.
Their midfields do not offer the same level of protection either, something Saints have to take advantage of.
Last season, Southampton only managed two wins in 14 games against the seven teams who finished above them, taking just 10 points from a possible 42.
I am sure Saints will finish higher than eighth this time, but to make the Champions League they will have to improve their record against their rivals, starting on Sunday.
Robbie Savage was speaking to BBC Sport's Chris Bevan