Greg Dyke: Rooney Rule a good way forward in England
Last updated on .From the section Football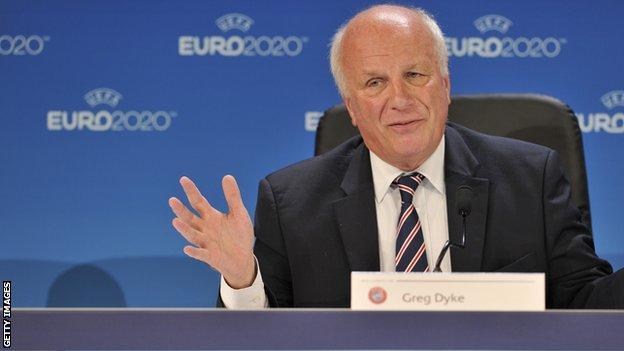 Introducing a form of the Rooney Rule to boost the number of black and ethnic minority coaches in England might be "a good way forward", believes Football Association chairman Greg Dyke.
The rule, set up in the United States in 2003, requires the NFL's American Football teams to interview minority candidates for head coaching positions.
Dyke said: "The FA inclusion advisory board is looking at it.
"I think there probably will be the equivalent [of the Rooney Rule]."
What is the Rooney Rule?
Introduced into American football in 2002, the Rooney Rule mandates that teams interview at least one BME candidate when a head coach or general manager position becomes available.
You can download a podcast of Richard Conway's look at the history and impact of the Rooney Rule, and whether it could work in UK football,
here.
There are currently just three black managers at English football's 92 league clubs, while a recent study found just 19 BME coaches in 552 top coaching positions at professional English clubs.
And speaking at the University of Manchester, Dyke said: "The people running football all recognise there's a problem and that was probably not where they were two years ago.
"[The Rooney Rule] might be a good way forward."
Dyke said he hoped that there would be between 50 and 100 top-level BME coaches in England within five years.
"I think we will succeed," he said. "We're in the institutional phase where we know there's a problem and we have got to find the solutions."