Roy Keane: Aston Villa assistant manager leaves role
Last updated on .From the section Aston Villa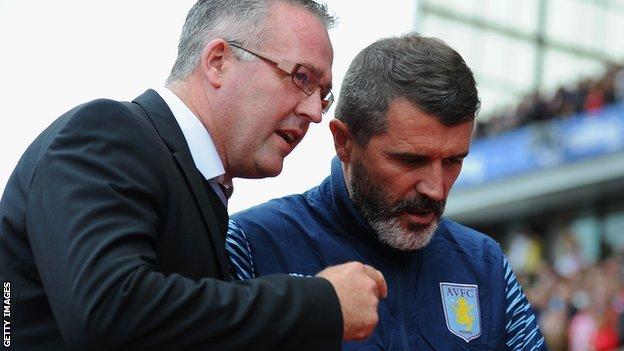 Assistant manager Roy Keane has left Aston Villa with immediate effect.
He has relinquished the role after struggling to combine it with a similar position he holds with the Republic of Ireland as Martin O'Neill's assistant.
The 43-year-old only became Paul Lambert's number two at Villa in July.
"Ultimately, my roles with Villa and Ireland and combining my commitment to these have become too much. It isn't fair to either Villa or Ireland, so I've made this decision," Keane said.
The former Manchester United midfielder, who has also managed Sunderland and Ipswich, had also been struggling to find enough time to spend with his family, a club spokesman said.
BBC Sport's Pat Murphy:
"Roy Keane came to see Paul Lambert on Friday morning and said that he could not continue to combine the two roles of being both assistant manager of Aston Villa and Republic of Ireland along with supporting his young family. Lambert says that he totally understands the reasons and respects his decision. Keane was always going to be a short-term appointment. Conspiracy theories will suggest that as it is Keane there is more to this than meets the eye, but quite simply he can't juggle both roles."
Villa manager Paul Lambert said the club would aim to fill the position as soon as was practically possible.
"Roy came to me this morning and he informed me that, ultimately, the difficulty of combining both roles has prompted his decision, which I respect totally," he said.
"In the brief period we have worked together he has been great in the role and I understand his reasons for leaving."
Villa, who travel to Burnley in the Premier League on Saturday, sit just two points above the relegation zone having not won in nine league games.
They were also knocked out of the Capital One Cup by League One strugglers Leyton Orient in August.