Andy Awford's Portsmouth staff urged him to change conduct
Last updated on .From the section Football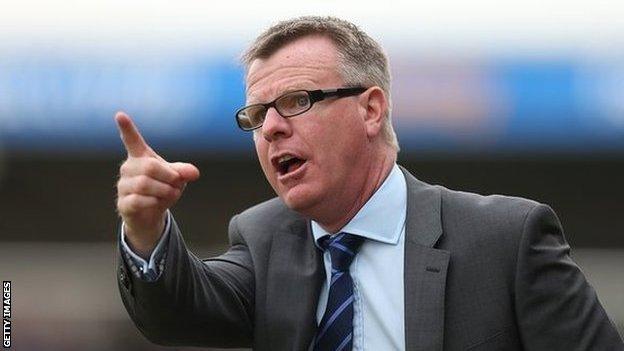 Portsmouth manager Andy Awford has revealed his backroom staff got together last week and asked him to change some of his matchday conduct.
Awford spent most of Saturday's win over Morecambe sat on the bench rather than stood in the technical area.
"I don't have people around who are 'yes' men," Awford told BBC Radio Solent. "I don't like that."
Awford had called the Cup exit "embarrassing" and his lowest moment in management, prompting staff at the club to brainstorm potential changes on a matchday and Pompey beat Morecambe 3-0 the following day.
"I've got good staff and they pulled me to one side and not just the football staff, the medical staff, the analysts; all of the staff," he said.
"Without me knowing they had a meeting and decided we needed to sharpen ourselves up from a bench strategy.
"There were some subtle changes and they worked and hopefully it will continue. I'm always on at the fourth official and referees and the staff told me to shut up and concentrate on the team and rightly so.
"Hopefully it played its part in us getting a victory."
Pompey travel to Tranmere at the weekend looking for a first away win since August and Awford hopes a victory at Prenton Park could be the catalyst to turn around that run.
"The away form needs a kick-start without a shadow of a doubt," he said.
"This week's game is as important if not more important that the one against Morecambe because we can't keep coming away and getting nothing."