Torquay United: Chris Hargreaves wants accountable referees
By Brent Pilnick
BBC Sport
Last updated on .From the section Torquay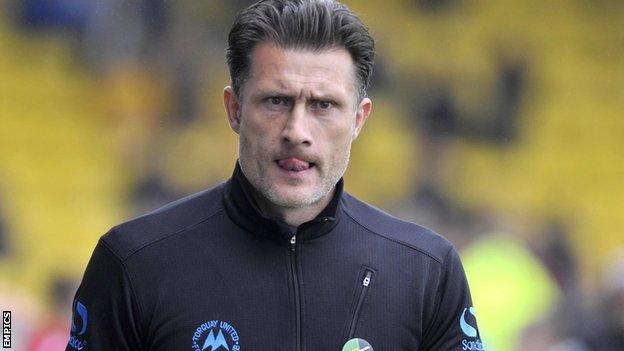 Torquay United manager Chris Hargreaves has said he wants more accountability from referees over their decisions.
The Gulls boss felt his side had been on the wrong end of a number of incorrect decisions over the last few weeks which had cost them points.
"The most frustrating thing as a manager is not having that personal contact with the referee," Hargreaves told BBC Sport.
"I'm not talking about going in and kicking the door down."
He added: "It's just a discussion. 'Can I see you after the game?'"
Hargreaves was earlier this season and has seen a number of decisions go against his side in recent weeks.
He cited the decision not to send off after seven minutes and a decision to book three of his players while as examples of where he would like to talk to referees.
"If the referee was quoted after the game and said he justified this decision by this or that then it would be good," Hargreaves added.
"I don't want to be up against the officials because they've got a tough job, because if they don't do it who's going to referee the game?
"But they can get away with a bad decision, go home, have their tea and no-one's bothered."