Sergio Aguero as good as any striker - Joleon Lescott
Last updated on .From the section Football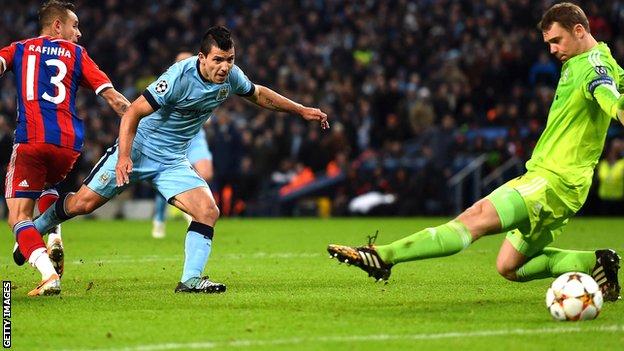 West Brom's Joleon Lescott believes Manchester City's Sergio Aguero is as good as any striker in world football.
"At the moment I wouldn't say there is a better centre-forward," Lescott said.
"There's a calmness about him. When he's through, you know it's a goal. Guys like him separate themselves from good players to become great."
Sergio Aguero this season
Five goals in five Champions League games, 17 in all competitions
City boss Manuel Pellegrini described his star striker as "one of the best in the world" and Lescott, who had five years with the club and played in the famous title-winning match against QPR in 2012 when Aguero scored a last-gasp winner, believes the Argentine should be ranked alongside acknowledged greats Lionel Messi and Cristiano Ronaldo.
"He's definitely in that bracket," Lescott told BBC Sport. "Messi and Ronaldo score bundles of goals and will go down in history as probably the greatest, but Sergio's having to do a bit more. The goals he scored the other night - he's having to run from the halfway line, get penalties, take the penalty.
"Then the other one where he is having to run from the halfway line, take it on his left foot. Goals in other leagues are due to possession. For me, as a centre forward there are not many better."
Southampton manager Ronald Koeman, who played alongside the likes of Diego Maradona and Hristo Stoichkov, says Aguero reminds him most of former Brazil striker Romario, whose goals helped Brazil to win the 1994 World Cup.
"Sometimes you think he is sleeping and then in the next moment he is scoring - that is a big quality to have," he added.
Despite the brilliance of Aguero, the Premier League champions have lost twice this season, to Stoke and West Ham, and trail Chelsea by eight points.
Lescott says manager Jose Mourinho is a crucial factor in Chelsea's dominance: "He is unique. Every player that has worked for him that I know has said he is the best man-manager they have worked with.
"His insight into each individual is unique and I don't think that's something you can learn by getting badges. I know players who have worked with him who didn't play and enjoyed it more than when they have played. That is not a coincidence, that is something you can't teach."