Man Utd's Louis Van Gaal: Van Persie low after 'very bad game'
Last updated on .From the section Football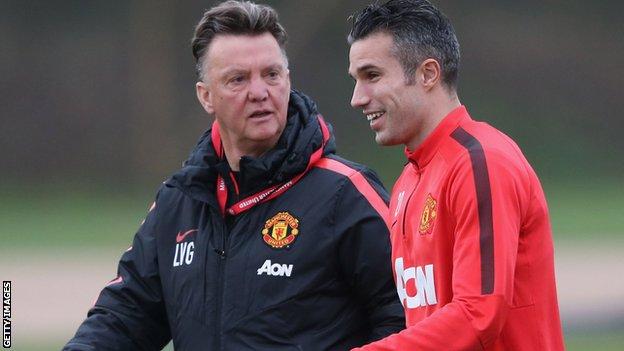 Manchester United manager Louis van Gaal says Robin van Persie's confidence is low after a "very bad game" against his former club Arsenal.
The £24m Dutch forward has scored just three times in 11 games this season.
Van Persie, 31, was substituted during United's 2-1 victory at the Emirates and could lose his place to fit again Radamel Falcao.
"You can count his touches on the ball and 13 is few for a striker," said Van Gaal, before Saturday's game with Hull.
"You know how strikers are. They feel they have to score goals.
"But more important is how he is playing. It was a very bad game for him. That is why I changed him."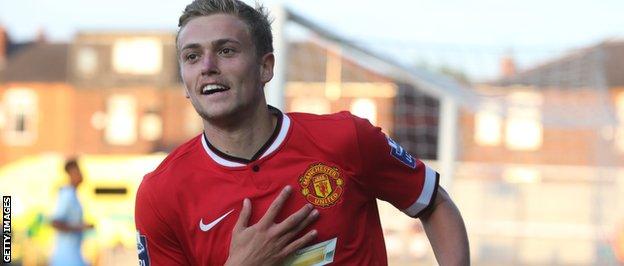 Of those 13 touches, two were when he took corners, and Van Persie was taken off 15 minutes from the end.
His surprising slump in form contrasts with the immediate aftermath of Van Gaal becoming Manchester United manager, when Van Persie's place appeared set in concrete.
There were even suggestions the Dutchman, who has a close personal relationship with his manager, would inherit the captain's armband instead of Wayne Rooney.
Six months on, Van Persie is not even sure of his place in the team.
Being replaced by James Wilson at Arsenal has raised the possibility of Van Gaal trusting the 18-year-old with his first Premier League start of the season against Hull at Old Trafford on Saturday.
"You shall wait and see," teased Van Gaal, when asked exactly that.
Speaking to the BBC earlier this week, United assistant-manager Ryan Giggs was slightly more expansive, recalling the debut he gave Wilson in the corresponding fixture last season, when the teenager scored twice.
"James did well when he got his chance," said the Welshman. "United have always given young players a chance. It's part of the DNA."
It is the availability of Falcao, who has recovered from a calf injury, that should concern Van Persie more.
Apart from his match-winner against Everton, the Colombian has not made much of an impact on the pitch since his deadline-day arrival on loan from Monaco.
Off it, Falcao has caught the eye.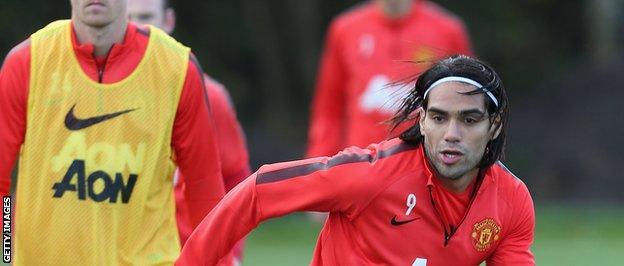 So diligent has been his approach to training, one senior figure at United this week compared the 28-year-old to Cristiano Ronaldo, whose dedication to his craft was well known within the club.
The speed of his recovery from a cruciate knee ligament injury has not caused concern either, even though Theo Walcott, who suffered a similar problem on the same January weekend, has still to make a complete return at Arsenal.
And there is no issue over Falcao's bravery either, with the same source revealing the South American's desire to "run through brick walls" if it was required.
Understandably, no decision has been made by United about whether to trigger a clause in their loan agreement with Monaco that would make the transfer permanent.
There is a feeling though that, as one of the world's marquee forwards, Falcao is capable of having a major impact.
Should his potential return - initially as a substitute, either against Hull or Stoke on Tuesday - be marked by the desired goal output, Van Persie could find himself squeezed out in a manner no-one could have envisaged when he scored that brilliant header against Spain during the World Cup.
Not that Van Gaal is viewing the present situation as permanent.
"For Robin it is a question of confidence, or maybe scoring a wonderful goal at the right moment," he said.
"It could be tomorrow."