Allardyce slams 'outrageous' treatment of Sakho injury
Last updated on .From the section Football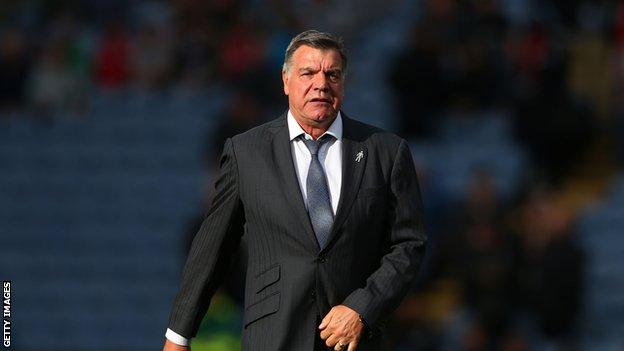 The West Ham manager Sam Allardyce claims the injury his striker Diafra Sakho suffered whilst on duty with Senegal was "mistreated so badly", the club could now be without the player for at least a month.
Sakho is the London club's leading scorer this season with seven goals - six of them in the Premier League.
The 24-year-old suffered a back problem just before Senegal's final Africa Cup of Nations qualifier against Botswana, which forced Sakho to pull out of the match.
The injury is still hampering the player, much to the frustration of Allardyce who voiced his concerns in his regular column with the London Evening Standard.
"Sakho's injury was mistreated so badly that we could now be without him for at least a month. It was outrageous," he said.
Sakho was one of three West Ham players who went away on international duty. All three, including England's Stewart Downing and another Senegalese player, Cheikhou Kouyate, returned injured, which Allardyce says was "a real setback".
The West Ham boss says he is now mindful of the upcoming 2015 Africa Cup of Nations starting in Equatorial Guinea, and the impact the tournament may have on his players.
"With the Africa Cup of Nations coming up in January, I have to think about contacting the appropriate associations and asking their permission to send some staff out with our players, to minimise the chance of something similar happening again."
The 30th edition of AFCON will be played from 17 January to 8 February 2015.