Steven Gerrard plays down talk of a rift with boss Brendan Rodgers
Last updated on .From the section Liverpool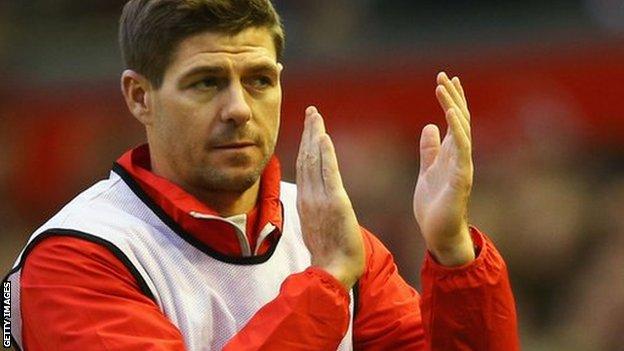 Liverpool captain Steven Gerrard has denied there is a rift between him and boss Brendan Rodgers after he was left out of the side that beat Stoke.
It was the first time the midfielder, 34, had not started a league game since New Year's Day, when he was injured.
Rodgers's decision to omit Gerrard from the 1-0 win at Anfield came on the 16th anniversary of his debut for the club.
But he said on Instagram: "Just to set the record straight, media talk of a fall-out between us two is nonsense."
Rodgers admitted he was unaware of the milestone in Gerrard's career when he left out the former England captain.
"I wasn't aware it was 16 years until I walked into the dressing room and saw the programme," Rodgers explained, after his side secured their first win in five games.
"I felt quite bad but he's a wonderful man. He thinks about the team."
Gerrard's contract expires at the end of this season and his performances have been criticised this term.
The former England captain, who retired from international football after the World Cup, has made 18 appearances for Liverpool in 2014-15
He played 90 minutes against Ludogorets in the midweek Champions League draw and replaced Lucas in the 75th minute at Anfield.
"I look at each game and put the players in I think will get us a result," Rodgers said.
"He came on and gave a great contribution when his experience and his stature in the game helped us. He will always play a part in our work.
"Every player wants to play every minute of every game but the reality is that at this level, and how competitive it is and the squad we have got here, you can't just rely on Steven in every single game.
"He's been brilliant for me in my time here."
Former Liverpool midfielder Paul Ince told BBC Match of the Day: "You want to keep on playing so when you feel fit and you're not playing it kills you. Steven Gerrard wants to play every game, he doesn't want to sit on the bench."
Danny Murphy added: "I was with Paul at Liverpool when Steven made his debut and I can't believe it has been 16 years but he's got to accept that now. It might benefit him actually as we've seen with Frank Lampard."