Frank Lampard: Manchester City to make loan decision in December
Last updated on .From the section Man City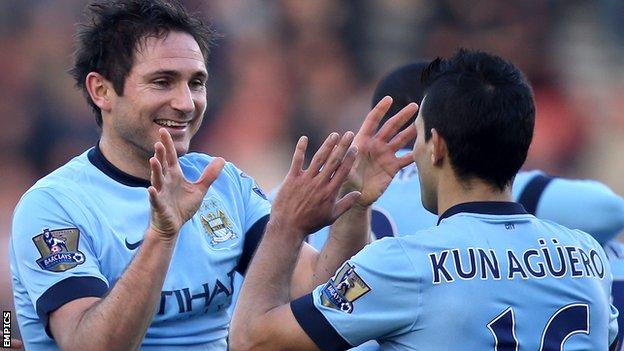 Manchester City boss Manuel Pellegrini says the club are keen to resolve on-loan midfielder Frank Lampard's future at the Premier League champions.
The 36-year-old former Chelsea star joined Major League Soccer side New York City FC in July and is due to return to the US in January.
Ex-England international Lampard has scored five goals since moving to City.
"We're going to have to make the best decision for him, the club, New York City, for everyone," said Pellegrini.
MOTD2 analysis - Jermaine Jenas on Frank Lampard
"What he will do is jog next to you, watching you and waiting for you to look for where the ball is and take your eye off him. You only turn your head for a second to see what is happening in the game, but that is all it takes. You look back, and he has gone."
Read more:
'How slippery Lampard disappears like a ghost'
Lampard added to his tally with the second goal in City's 3-0 win at Southampton that moved the defending champions into second place behind Chelsea in the table.
"I will continue to answer this question in the same way: we are going to decide in December when we have to make the decision, what will happen with Frank," the City manager added.
"He's very happy here in our team. I think that Frank also enjoys the way we play because he makes the difference in the last 25 to 30 metres, so he's very happy here and we're very happy with him."
Frank Lampard at Manchester City
Premier League: Eight appearances, three goals
Champions League: Two appearances, no goals
Capital One Cup: One appearance, two goals
Lampard, whose MLS club are owned jointly by Manchester City and baseball giants the New York Yankees, said: "I haven't spoken to them on that front at all. It's nice that they are saying that. It's much better saying that than saying they can't wait for me to go."
Pellegrini also revealed that on Monday he will find out the full extent of the hamstring that forced captain Vincent Kompany off near the end of their victory at Southampton.