FA Cup: Mourinho, Simeone and Inter Milan - second-round stories
By Gary Rose & Neil Johnston & Phil Shepka
BBC Sport
Last updated on .From the section FA Cup
A former Inter Milan trainee - who has also worked as a Cristiano Ronaldo lookalike - a goalscoring internet sensation and a non-league manager who has spent "a small fortune" on studying Diego Simeone are among those dreaming of FA Cup success in this weekend's second round.
For the 40 teams involved, the prize for victory is a potential glamour tie against a Premier League side.
A plasterer and a factory worker were the heroes of the first round, but who will make a name for themselves this time? BBC Sport takes a look at the stories behind some of those involved.
FA Cup second round

Forty teams involved from League One, Two and non-league

Thirteen non-league sides are left in the competition

Warrington, the lowest-ranked team left in the FA Cup, have already progressed through six rounds

Three non-league sides are guaranteed to reach the third round
From Milan to Maidstone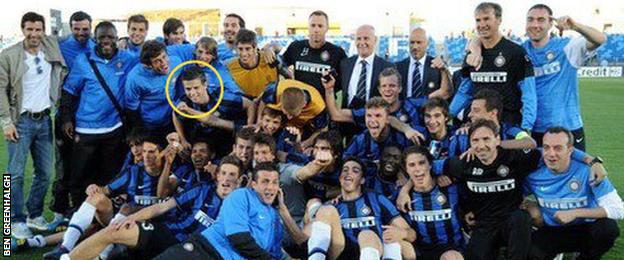 Three years ago, Ben Greenhalgh was training with Samuel Eto'o, Wesley Sneijder and Javier Zanetti at Inter Milan.
In January 2010, the then 18-year-old beat competition from 20,000 other budding young players to win TV talent competition Football's Next Star and the coveted prize of a six-month contract with the Italian giants, then managed by Jose Mourinho.
Since then, things have not gone quite to plan. On Saturday, the winger will be turning out for Isthmian League Premier Division side Maidstone United - after stops at Welling and Inverness - against Wrexham in the day's televised FA Cup second-round game.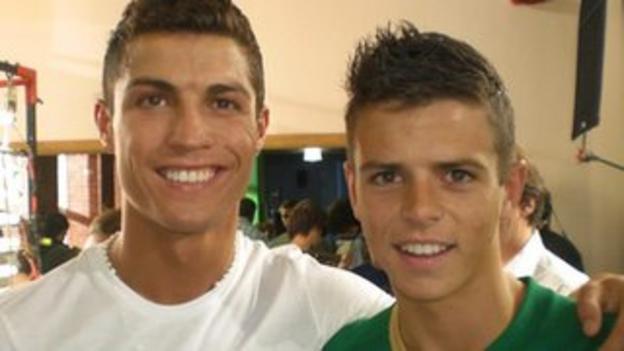 "I could easily look back at it and go 'how did nothing come of that?' as such little things have set me back," Greenhalgh said. "But if you're always questioning 'what if?' then you'll get stuck in the past and not push on any further."
It all looked so promising when he moved to the three-time European champions.
"It was weird, coming from nowhere and having watched these players on the TV, but I think I dealt with it better than you'd expect and took it step-by-step," added Greenhalgh, whose varied career has also included a stint working as a Cristiano Ronaldo lookalike.
He impressed enough at Inter to earn a 12-month extension and was sent out on loan to Serie C side Como, where he was getting regular first-team football and coming to terms with the language barrier.
However, money troubles meant the provincial side could no longer keep him, and he was sent back to Inter to see out the final few months of his contract.
"Surprisingly, I didn't really want my contract to carry on due to the style of the reserve manager towards the foreign lads," he says.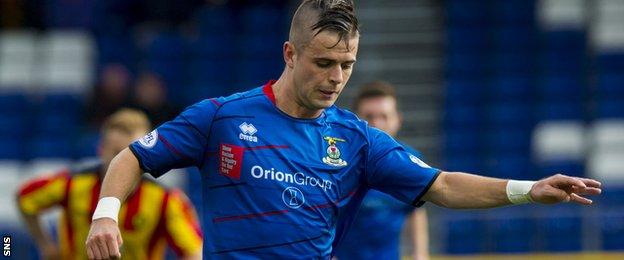 "I know it was such a big club, but I was still so far away from the first team. I think only Mario Balotelli and Davide Santon actually made that step up in eight years. I thought that I'd prefer to move back to England."
Upon his return, he found it more difficult to get a Football League contract than he imagined.
"I think I imagined it would be much more of a walkover than it was. People were reluctant because I was off the radar for so long."
In a bid for first-team football, he moved back to Welling, where he had been playing before his move to Italy, before a year-long spell with Scottish Premiership side Inverness.
After struggling after a change of manager, he moved home to his parents' house in Kent to sign for Maidstone in the summer, where he is closer to his girlfriend and coaches part-time in a school.
And on reflection, he only has one regret: "I think I could have had a better frame of mind at Inter, because for the majority of the time I wanted to come home and see everyone."
Rabona sees Geddes go global
The last three weeks have been quite the whirlwind for Worcester City striker Sean Geddes.
Not only did he score twice as the Conference North side beat League One Coventry 2-1 for one of the biggest shocks of the FA Cup first round, but he also became an internet sensation at the weekend after scoring a "rabona" lob in an FA Trophy game.
The video of the goal received nearly half a million hits online, and Geddes said: "It's mad how people have suddenly picked up on it.
"I have a friend in Norway who said I'm all over the television over there! Suddenly everyone wants to be my friend."
Geddes, who started out in the Manchester United youth team and was in the same academy side as Danny Welbeck and Ravel Morrison, works in a factory that makes Formula 1 parts for world champion Lewis Hamilton. He cycles to and from his job as a lathe turner every day, starting at 06:00 each morning.
His Worcester team make the journey to Scunthorpe on Sunday, and Geddes believes his dream few weeks can continue.
"I can see us in the third-round draw," he says. "We're all happy and enjoying it and as long as we keep playing as we can, we've got a great chance."
FA Cup provides escape from Ebola fears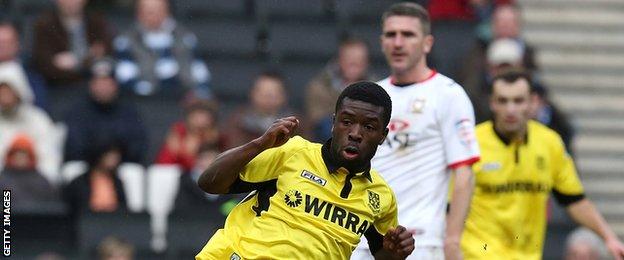 For some, this weekend's FA Cup match could lead to a big-money move or a place in their club's folklore.
For Tranmere winger Abdulai Bell-Baggie, though, it will simply be another opportunity to escape the reality of a difficult time for him and his family.
Bell-Baggie, whose side face Oxford United on Saturday, has family in Sierra Leone, a country which has been badly affected by the Ebola outbreak.
"Everyone has their own problems and I have mine at the minute," he told BBC World Service Sport. "Football provides an escape, not just for me, but my family as well. I try to send what money I can back to help and that's all I can do.
"I keep in regular contact - twice a week - to make sure they're OK and try to keep them positive, which is all you can do if you're miles away from home. I do get worried a lot of the time, waiting for that call, which hopefully never comes.
"It's a relief every time I hear their voice, make sure they are fine and well and smiling, which is a massive part for me."
Simeone influence at Southport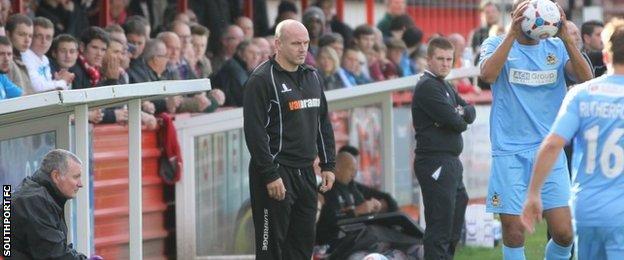 Southport manager Gary Brabin hopes to cash in on the FA Cup after spending thousands of pounds of his own money learning from Atletico Madrid boss Diego Simeone.
The 43-year-old former Hull City midfielder spent a month in Spain's capital in an attempt to rebuild his career after he was sacked by Luton Town in April 2012.
Now back in the game after an absence of 918 days, Brabin is seeking to steer the Sandgrounders into the FA Cup third round for the first time in 16 years by defeating Conference rivals Eastleigh at Haig Avenue on Sunday.
"I wouldn't say I was Simeone's best mate, but I met him while I was out there and I was allowed to watch lots of his training sessions," said Brabin, who only took charge of Southport in October.
"I used some contacts I had to sort it out for me. It was a few months after I left Luton, when Radamel Falcao was still at Atletico.
"It cost me a small fortune because I took my family out with me, but you can't put a price on it because the things I learned were priceless.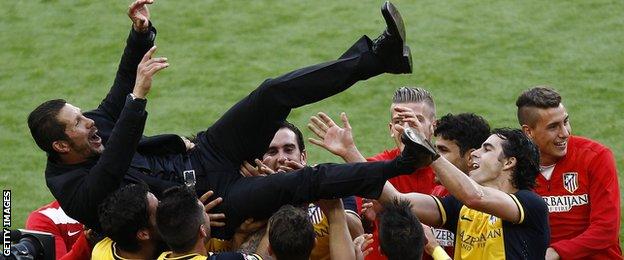 "While my family used the trip as a holiday, I spent all my time studying Simeone and Atletico, watching grassroots football and making new contacts. I'm always open to learning new things and putting them into practice."
His second spell as Southport boss has got off to an encouraging start, after taking over in October with the club in the relegation zone.
"Results have improved and expectations have increased," added Brabin, whose part-time side defeated League Two Dagenham & Redbridge in the first round.
"We're playing with confidence and it's great that people are now talking about Southport potentially playing in the FA Cup third round.
"Getting into the third round and drawing a big club would mean everything."
Tell us your FA Cup second-round stories via #getcarriedaway