Paul Murray: Hartlepool poor form needs to 'upset' players
Last updated on .From the section Hartlepool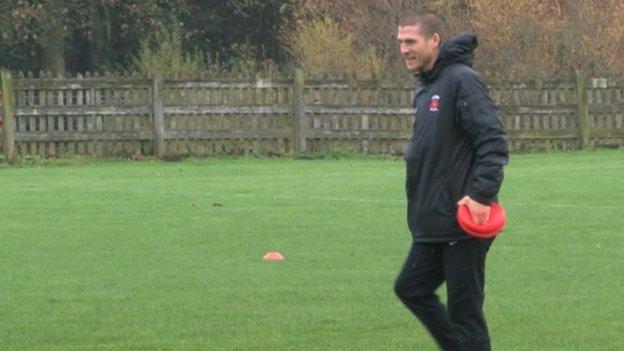 Manager Paul Murray says his Hartlepool players must acknowledge their poor League Two position, while remaining upbeat for their survival bid.
Non-league Blyth provide FA Cup opposition on Friday and a distraction from their league fortunes.
"I want them to have that balance of being upset about where we are in the league," Murray told BBC Tees.
"They can't just come into training thinking 'I'm a footballer, I'm coming into training every day and that's great.'
"It is great but they've got to have that balance of being bright in training, but still being upset about where we are."
With just two wins so far this season, Pools have been in the bottom two since mid-October.
Recent performances have suggested improvement, with goals in all but one of the last eight matches, but Murray says his side remains error-prone at crucial times.
"What Wycombe had was reliability," Murray added. "It all boils down to individual errors but they hardly made any errors.
"The one error they did make was the penalty that could have got us back in the game [a spot-kick missed by Neil Austin in the first half].
"We have to cut the errors out. It's easier said than done but we're working on it and continue working on it."