Mario Balotelli Instagram post to be investigated by FA
Last updated on .From the section Liverpool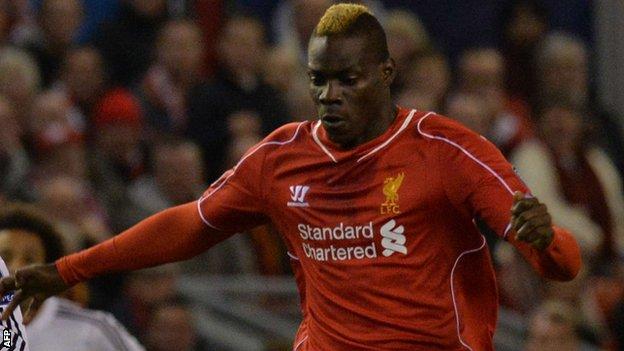 The Football Association is to investigate a social media post by Liverpool striker Mario Balotelli which appeared to contain anti-Semitic and racist references.
Balotelli, 24, deleted the post from his Instagram page of Nintendo computer game character Super Mario.
The Italian later tweeted to deny the text of the post was offensive.
The FA confirmed it was looking into the post, while Liverpool said they will speak to Balotelli.
A club spokesman told BBC Sport: "We are aware of the posting which has since been promptly deleted by the player.
"We will be speaking to the player about the issue."
Responding to criticism on Twitter, Balotelli tweeted: "My Mom is Jewish so all of you shut up please."
He also described reposting the image as "my unlucky moment".
However, former FA executive and current chief executive of the Jewish Leadership Council Simon Johnson said Balotelli should face action.
"We abhor all forms of racism, wherever it is found," Johnson told the Daily Telegraph.
"We call upon the FA to investigate this offensive social media post and to take action if appropriate if we are to succeed in kicking racism out of football."
In September, Merseyside Police investigated racist remarks made to Balotelli on Twitter after he posted a message during Manchester United's 5-3 defeat against Leicester City.