Football concussion: Wycombe's Matt Bloomfield on player safety
By Matt Bloomfield
Wycombe Wanderers midfielder
Last updated on .From the section Wycombe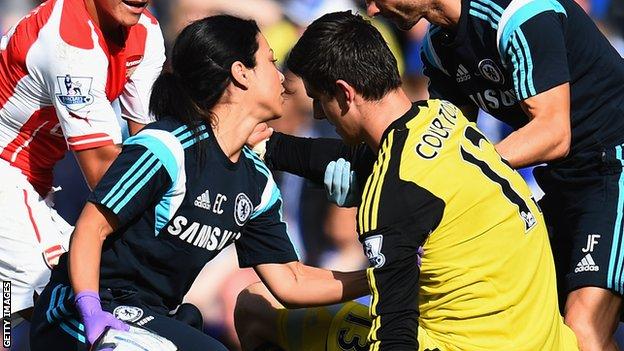 There have been a few incidents recently prompting discussions about concussion in football and the new guidelines that were introduced at the start of this season.
I was asked if I had any experience of head injuries and unfortunately the answer was yes - although it was not as if I remembered much of it!
We were away at MK Dons in December 2006, when they were playing at the National Hockey Stadium, and 10 minutes into the game I was chasing after a ball on the left wing.
I was off balance, the defender gave me a nudge and I crashed into the advertising boards. I was knocked unconscious.
The next thing I remember was trying to get back on the pitch. I thought I was walking forwards, but apparently I was actually walking sideways.
The FA's head injury guidelines
If a player loses consciousness, they must be removed from the game.
If a player does not lose consciousness, an on-field or touchline assessment by a doctor will take place. If there is any suspicion of a concussion, the player must be removed from the game.
A player with suspected concussion may need checks at hospital, but if the player is allowed to go home, they should not drive.
The player should have physical and mental rest for 24 hours afterwards.
The player should not be allowed to play for at least six days and they must be cleared to play by the club doctor.
Read more at the
FA website.
I was in a bit of a muddle and our club doctor drove me straight to the John Radcliffe Hospital in Oxford so I could be assessed.
Everything was fine and I was sent home with the proviso that I had someone there to keep an eye on me.
Far from worrying about my health, the only concern that occupied my mind was whether I was going to be fit for our League Cup quarter-final against Premier League Charlton three days later.
I suppose there is an element of irony in that not only did I play, but I gave what I consider to be one of the best performances of my career in a game that we won 1-0.
There has been controversy in the past year or so about head injuries suffered by Tottenham goalkeeper Hugo Lloris and Chelsea counterpart Thibaut Courtois.
The new guidelines, which were brought in by the Premier League in August and later throughout Europe by governing body Uefa, suggest that, should a player lose consciousness, they cannot play again for a minimum of six days.
The player must be assessed every day and introduced back into physical work gradually.
These rules were in force at Wycombe last weekend when we had to manage without our on-loan central defender Alfie Mawson after a collision had left him unconscious in a league game the previous Monday.
Alfie was assessed by both our medical team and his parent club Brentford. He said he felt great and wanted to play, but our manager Gareth Ainsworth and the medical staff would not take any risks with his health, even though it meant we only had enough fit players to name four substitutes.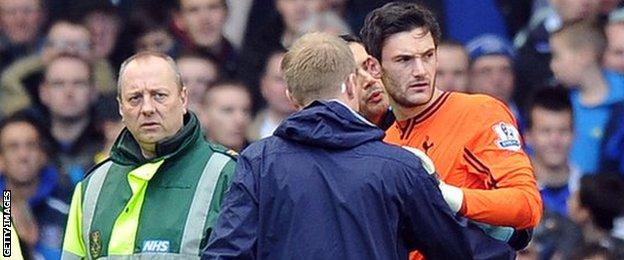 I thought it was admirable that the gaffer and the club stuck to what was best for Alfie and I am in total agreement with the new guidelines.
Safeguarding a player's long-term health is much more important than playing in a single game, and it also takes pressure away from the medical staff.
It is perhaps only natural that a manager might put pressure on his physio to declare a key player fit, but this cannot happen now.
If these regulations had been in place eight years ago, I would have been robbed of the opportunity to play in one of the biggest games of my career at The Valley.
I cannot say that I would have been happy about that - but I would have had no choice.
No doubt every footballer would feel frustrated at missing a game if they felt fine after a head injury.
However, I think it is a positive development that players are now protected. In these situations, safety should always be paramount and the risk is not worth taking.
Players should never consider shirking a tackle for fear of injury, and a lot have that determination to stick their head in where it hurts for the good of the team.
Injuries are part and parcel of the game, but we can all take confidence from the improved measures that are in place to look after us when they occur.