World Cup 2022: Qatar release new stadium plans
Last updated on .From the section World Cup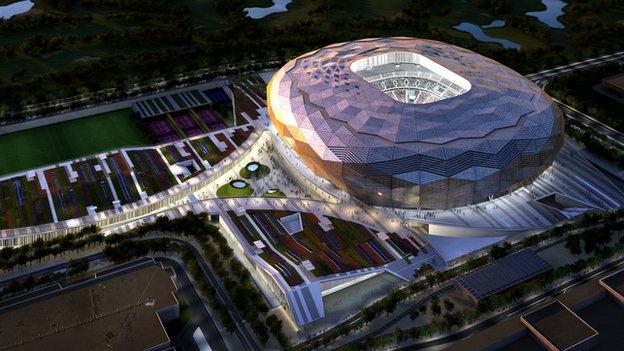 Qatar has released plans for a new 2022 World Cup stadium, despite ongoing uncertainty surrounding the tournament.
The 40,000-capacity Qatar Foundation Stadium is due to be completed in 2018.
Amnesty International Qatar of failing to tackle the abuse of migrants, with more than 180 workers dying in the country last year.
Meanwhile, Qatar's tournament bid was cleared of wrongdoing, though Fifa is currently assessing Michael Garcia's 430-page corruption inquiry report.
Qatar Foundation Stadium
Capacity 40,000, reduced to 25,000 after World Cup
Stadium and associated precinct expected to be completed in 2018
Photovoltaic and solar thermal panels will produce energy for electricity and hot water
This will help to power the stadium, swimming pool and indoor pavilion
Having conducted a two-year investigation into the 2018 and 2022 World Cup bidding process, Garcia, then questioned a summing up of the findings, saying it "contains numerous materially incomplete and erroneous representations".
The independent head of Fifa's audit and compliance chamber, Domenico Scala, is currently examining the report and will then decide how much Fifa's ruling executive committee members should see of it. After that, they can decide what, if any, further steps should be taken.
That, in theory, leaves open the possibility of a re-vote over the decision to hold the 2018 World Cup in Russia and 2022 tournament in Qatar.
Qatar Foundation Stadium is the fourth stadium design to be revealed in the build-up to the World Cup.
Five stadiums are currently under construction, with another design to be released this year.