Game has failed Balotelli when he has been on receiving end

By Tom English
BBC Scotland
Last updated on .From the section Football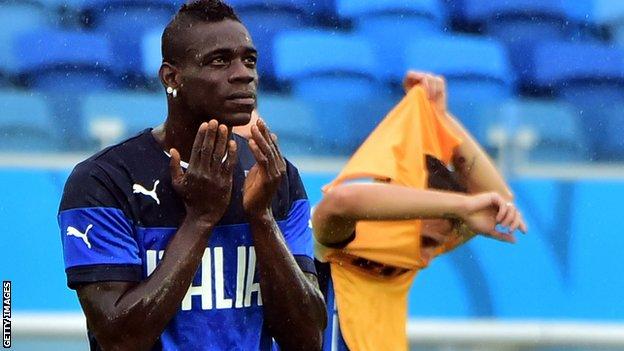 Mario Balotelli's capacity to find controversy is akin to a sniffer dog looking for truffles.
Whether it's his myriad scrapping on the Manchester City training ground with Jerome Boateng, Vincent Kompany, Micah Richards and Roberto Mancini, or attempting to drive his car into a woman's prison in Brescia, or setting his house on fire in Manchester, it might be said that Balotelli has a nose for trouble.
Apart from the slapstick, there's the petulance.
Balotelli has become a cartoon villain, a man you can't take your eyes off for fear of missing a new chapter in his tales of woe.
The latest is the message on Instagram that he said was intended as an anti-racist posting but ended up as the direct opposite.
Only Balotelli could go on social media with the purpose of decrying racism and then, one click later, be denounced as anti-Semitic. It's not goals he's scoring these days but own goals.
Balotelli has angered the Jewish Leadership Council and the Board of Deputies of British Jews, both bodies wanting his crass missive investigated and punished by the Football Association.

The governing body has been in contact with the player. There is a possibility that he will be punished with a five-game ban.
Balotelli deleted the offending message and then but he faces a ban of some sort. In his statement, his regret seemed wholly heart-felt, but there's little chance of him walking away from this without a suspension.
Here's the thing, though. Balotelli was daft and naive and deserves a sanction, but you'd go a long way to find somebody who genuinely believes he's a bigot.
Bigotry is something that Balotelli knows all about given that he has been subjected to it for most of his professional life. No player in modern times has been targeted by racists as much as the Italian. He's the go-to man for abusers and has been for years.
It makes it doubly bizarre that he would stumble into this calamity on Instagram, but it does raise a point that's worth considering.
If Balotelli is to be hit with a ban by the football authorities then he's entitled to ask where these authorities have been when he's been on the receiving end himself.
If the Sword of Damocles is to be lowered on his head then where has it been for all these years when football's response to him being targeted by Neanderthals has been a slap on the wrist, a modest fine articulated by way of a Father Tedesque pronouncement from Uefa and Fifa - 'Racism? Careful now. Down with this sort of thing'.

Whenever Balotelli does something ridiculous, which is often, we should think about the narrative of his life and what's the greater crime - arrogance or laziness on his part or untrammelled abuse on the part of those who have hounded him?
This is not to excuse his Instagram moment. He'll get what's coming from the FA. But tackling offensive behaviour is supposed to be a two-way street.
Consider his story. At 18, he was subjected to monkey chants playing for Inter Milan against Roma, who were fined less than £8,000 for the actions of the abusive element in their support.
A month after that, Balotelli was assailed in song by a gang of Juventus fans who chanted that black Italians do not exist. Marcello Lippi, the Italy manager at the time, said in the days after the incident that there was no racism in Italian football.
When he was 19, Balotelli was targeted by Chievo fans. His response was to mock his abusers with ironic applause. For that, Balotelli was fined E7,000. There was no punishment for Chievo.
Not long after that, he had a bunch of bananas thrown at him in a bar in Rome. We could go on here - and we will.
Mario Balotelli's career

Lumezzane

2006-07

0 goals in 2 games

Inter Milan

2007-10

20 goals in 59 games

Manchester City

2010-13

30 goals in 49 games

AC Milan

2013-14

28 goals in 43 games

Liverpool

2014-

2 goals in 14 games

Italy

13 goals in 33 games
In 2012, when he was at Manchester City, he was singled out for racist chanting by a group of Porto fans in a Champions League match. Uefa fined Porto just short of £17,000, which was about £8,000 less than the fine they handed out to City when they took to the field 30 seconds late for another Champions League contest. In Uefa's world at the time, time-keeping appeared to be a more serious offence than racist chanting.
At Euro 2012, he was abused by Spanish supporters, the Spanish FA being fined £16,000. Later, their president insisted that racism was not a problem in Spanish football.
Also at Euro 2012, Balotelli was targeted by fans of Croatia. Again, the punishment was a small fine.
Closer to home, a right-wing politician in Italy poked fun at Balotelli in the form of a photo-shopped image of the footballer as a migrant picking crops in a field. The newspaper, Gazzetto dello Sport, depicted him as King Kong. They apologised. But this kind of thing has been the norm for Balotelli for so long.
When he returned to Italy to play for AC Milan, the brother of Silvio Berlusconi, the club's owner, made an idiotic comment about the colour of Balotelli's skin. That was somebody supposed to be on the footballer's side.
Balotelli was racially abused during the Milan derby in February last year and targeted again by Inter fans a few weeks later, even though he wasn't actually playing in the match where the chanting was going on. Inter got a small fine for both episodes.
Two months later, he got it in the neck again, this time from a section of monkey-chanting Roma supporters. The game was stopped for two minutes as the Roma captain, Francesco Totti, pleaded with the supporters to stop their abuse of Balotelli. They ignored him. The treatment continued when the game restarted.

The examples keep on coming. At a pre-World Cup training camp in Florence, a bunch of desperado Italian fans used the most vile language against Balotelli, who was less than 50m away when they launched their hateful tirades.
Football has lavished wealth on Balotelli, but it has failed him when it has come to properly punishing those who attack him because he is black.
He is now on the other side of the table - a hapless figure in the firing line.
There is a gathering storm about his Instagram moment, a fury that may grow as the days go on. This is his mess and he's going to have to deal with the consequences.
But, while the Balotelli bashing carries on, let's have a think about the strange kind of justice that is meted out in football.
Balotelli has done something stupid - again - but, in the great scheme of things, he remains more sinned against than sinning.