Thierry Henry Arsenal return would be a masterstroke - John Hartson
Last updated on .From the section Football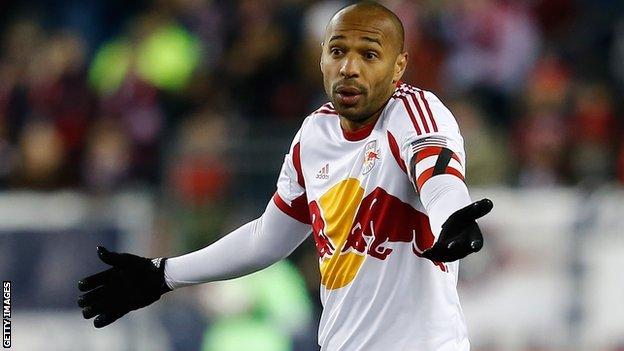 Former Arsenal striker John Hartson says it would be a "masterstroke" by manager Arsene Wenger to bring back Thierry Henry in some capacity.
Frenchman Henry, 37, left New York Red Bulls earlier this week after four and a half years with the MLS club.
He returned to Arsenal on loan in 2012, making four appearances and extending his club record goal tally to 228.
"Thierry is an inspirational figure who would be a role model for the younger players at the club," Hartson said.
Thierry Henry at Arsenal
Appearances:
377
Goals:
228
First debut:
7 August 1999 v Leicester
Final match:
7 March 2007 v PSV Eindhoven
Second debut:
9 January 2012 v Leeds United
Final match:
15 February 2012 v AC Milan
"I think it would be a masterstroke if Arsene Wenger got him back.
"He is a legend at the club, their record goalscorer and has a wonderful relationship with Wenger."
Striker Henry won the World Cup with France in 1998 and two Premier League titles with the Gunners, where he played between 1999 and 2007. He added the Champions League with Barcelona in 2009.
On Tuesday, Wenger congratulated Henry on his 20-year playing career and added he believes the striker will return to the club one day.
In an interview with BBC Sport, Hartson added: "Wenger said that Henry was an Arsenal man.
"I thought [Patrick] Vieira was an Arsenal man and Arsenal lost him to Manchester City. I'm sure Wenger wouldn't want that [to happen] again.
"When you've got one of the club's former greats available then Wenger maybe would have learned from losing Vieira that he needs to get Henry in."