Man City's reduced losses positive, says Khaldoon Al Mubarak
Last updated on .From the section Man City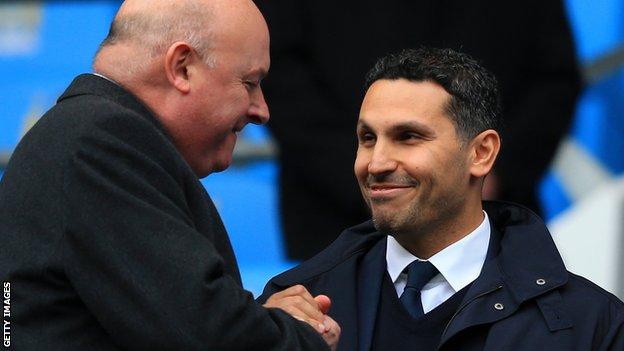 Manchester City chairman Khaldoon Al Mubarak says the club have moved "beyond a period of heavy investment" needed to make them competitive.
The Premier League champions are a step closer to breaking even, posting losses of £22.9m for the year to 31 May 2014.
That figure includes a £16.2m fine City paid to Uefa for breaching Financial Fair Play (FFP) regulations.
"The club is where we hoped it would be when we began this transformation six years ago," Al Mubarak said.
He added: "Now we have moved beyond the period of heavy investment that was required to make the club competitive again, it is commercial growth of the kind we are seeing today that will underpin and support our operations in the future."
Owner Sheikh Mansour has invested around £1bn in the club since taking over in September 2008, but the latest accounts are a sign that City are moving towards a model of self-sustainability.
In brief: Man City accounts 2013-14

2013-14

2012-13

Turnover

£346.5m

£271m

Matchday revenue

£47.5m

£39.6m

Broadcasting (Uefa)

£31.3m

£24.1m

Broadcasting (other)

£101.9m

£64.3m

Other commercial income

£165.8m

£143m

Player trading (loss)

£76.3m

£75m

Wage bill

£205m

£233.1m

Overall loss

£22.9m

£51.6m
The club lost £197.5m in 2010-11, but those losses have fallen significantly since, to £97.9m in 2011-12 and £51.6m in 2012-13.
City's reduced losses for 2013-14 were helped by an increase in revenue for the third successive year, resulting in a club-record turnover of £347m, up from £271m for the previous 12 months. In addition the club's wage bill has been reduced to 59% of turnover, down from 86% a year earlier.
In May, Uefa handed City a fine of £49m - all but £16.2m of which was suspended - for breaching FFP rules. The club were also restricted to naming a 21-man squad for this season's Champions League.
Having been punished for breaching FFP, City must adhere to a number of conditions in order to avoid paying an even larger fine.
Uefa said the club could not lose more than €20m (£15.7m) in 2013-14 - a restriction City have complied with once the £16.2m fine is taken out of the equation.
Those losses must be cut to €10m (£7.84m) for 2014-15, but chief executive Ferran Soriano said he was confident the club would post a profit.
"This year Manchester City, has reached a new level of financial sustainability," he said. "We have budgeted for a profit in 2014-15 and now expect to be entering the 2015-16 season with no outstanding sanctions or restrictions."
He also said: "In our last annual report I wrote of a transformation under way; now I believe the days of Manchester City playing catch up are over."