Burnley 'happy' with financial results despite posting £7.6m loss
Last updated on .From the section Football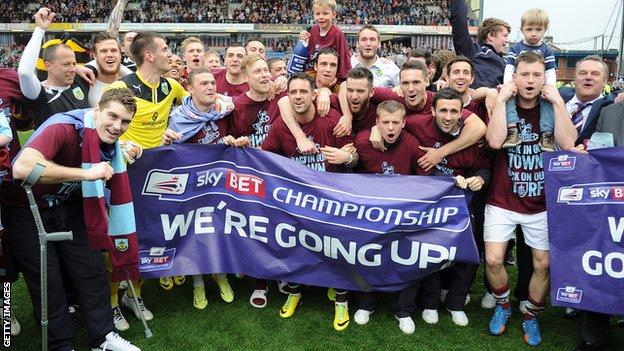 Burnley have recorded a £7.6m pre-tax loss for the year to 30 June 2014, but remain upbeat as it is accounted for entirely by promotion bonuses.
The Clarets paid £7.9m in "exceptional promotion costs" after winning a place in this season's Premier League.
Those costs were made up of staff bonuses, promotion clause payments agreed with other clubs when buying players and additional one-off items.
Co-chairmen John Banaszkiewicz and Mike Garlick were "happy" with the results.
In a joint statement in the club's annual report, they wrote: "Without these one-off costs, we are very pleased to report that the club would have been in a break-even position, keeping to our promise made during the year."
Burnley - who also recorded a £7.6m loss for 2012-13 - announced a turnover of £19.6m, up £4.3m on the previous year.
That figure is likely to rise significantly for 2014-15, when it will include the club's share of the current Premier League domestic and overseas television deals.
Manager Sean Dyche led the club to second place in the Championship last season, securing promotion with a 2-0 win over Wigan on 21 April.