Paul Buckle: Cheltenham manager 'has learnt from mistakes'
Last updated on .From the section Football
New Cheltenham boss Paul Buckle says he has returned to management having "learnt from his mistakes" at his previous clubs.
The 43-year-old has spent the last year in the United States but returned to England last week to take over at Whaddon Road, replacing Mark Yates.
His appointment came after spells in League Two with Torquay and Bristol Rovers, and Luton in the Conference.
"I've had a good rest and I've learnt a lot," he told BBC Points West.
"I've learnt from all of the clubs I've managed and made lots of mistakes. I'll continue to make mistakes but I've got more experience now."
Buckle led Torquay to promotion from the Conference in 2009 and took them to the League Two play-off final two years later, where they lost to Stevenage.
He left soon after to join Bristol Rovers, but his tenure only lasted eight months.
Paul Buckle: Club-by-club

Club

Period

Record

Torquay

Jun 2007 - May 2011

226 games; 104 wins, 58 draws, 64 defeats

Bristol Rovers

May 2011 - Jan 2012

29 games; eight wins, six draws, 15 defeats

Luton

Apr 2012 - Feb 2013

52 games; 26 wins, 10 draws, 16 defeats
During his time at the Memorial Stadium, Buckle won eight of his 29 games and was chastised by some supporters after saying in an interview they should "lower their expectations" after their drop to League Two.
"I don't regret saying that. I think I heard [current Rovers boss] Darrell Clarke say it a while ago," said Buckle.
"I'm not saying anything different here to what I've said at other clubs - you have to be together. If you're not together then there is trouble ahead.
"When I went to Bristol Rovers, as a relegated club, there were a lot of problems. I didn't have an awful lot of time to run the rule.
"I've learnt from that and in hindsight, would I have gone to Bristol Rovers? Probably not, but I have no regrets. It's a massive club, I saw it as a step up and I have no regrets about my time there."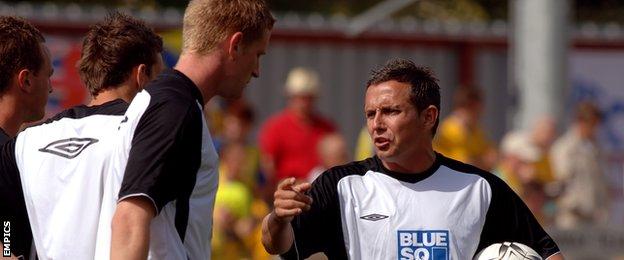 Buckle then spent nine months in charge of Luton but quit in February 2013 to move to America to be with his wife, sports presenter Rebecca Lowe.
Despite offers of work in the US, Buckle said the vacant Cheltenham job was "top of his list" and agreed a 12-month rolling contract last week.
The Robins, 17th in League Two, drew 1-1 with Oxford in his first game in charge and he will now lead them in the FA Cup second round against Dover on Sunday.
"I want the very best for Cheltenham Town," Buckle said. "It's my job to find what's good and what's not so good here, and try to make it better.
"I want the players and staff here to be ambitious. I think that's when you get a really healthy club, when no one is comfortable and just sitting in to pick their money up.
"Every manager knows the harder you work, the luckier you get. This is what we've got to instil in the club. We've had success before so we know what can be achieved."