Jose Mourinho: Chelsea boss angry at Newcastle time-wasting
Last updated on .From the section Chelsea
Chelsea boss Jose Mourinho complained about time-wasting after his side suffered their first defeat of the season at the hands of Newcastle.
Two Papiss Cisse goals put the hosts in control and, although Didier Drogba netted, Chelsea could not equalise.
"Things were happening that the referee cannot control," said Mourinho.
"He cannot punish the ball boy that disappears, the people in the crowd that keep the ball or somebody that throws a second ball on to the pitch."
Newcastle had defender Steven Taylor sent off for two bookable offences when they were 2-0 ahead but held on during six minutes of injury time to end Chelsea's 23-game unbeaten run.
"If the six minutes were to be played normally it would be fine, but again in the six minutes more of the same happens," added Mourinho.
"One thing is to waste time on the pitch in a proper way - you keep the ball, you go to the corner, you hold the ball, you wait for the free-kick and the goalkeeper is not running to get the ball.
"But another thing is what happens outside the four lines which is the responsibility not of the referee.
"I thought at high level football these sort of situations would not happen."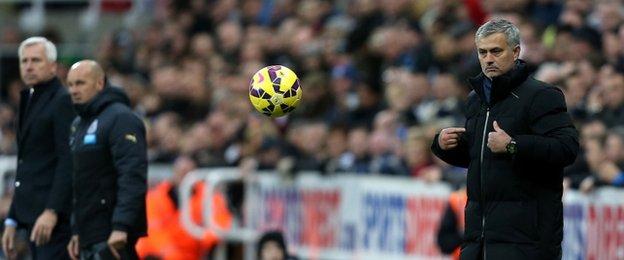 Last March, Mourinho confronted a ball boy during Chelsea's 1-0 defeat at Crystal Palace, warning him that he could be punched in the future if he slowed down play.
And in the previous season, forward Eden Hazard was sent off for kicking a Swansea City ball boy during a Capital One Cup match.
However, Newcastle boss Alan Pardew criticised his Chelsea counterpart for focusing on the issue of time-wasting.
"We've lost players left, right and centre, we are down to 10 men and for the manager of the opposition to moan about time-wasting is not really acceptable," said the Magpies manager.
"If the ball goes in the stand at Newcastle with six minutes to go, it ain't coming back, trust me.
"There was a bit of confusion, the ball coming on, we are kicking it away - come on, I don't think that's really where we are today. It was an unbelievable performance."
Regarding the six minutes of added time, Pardew said: "Talk about Fergie time, that was certainly Mourinho time.
"I was very disappointed with the six minutes because as the home team I've never had that."
Mourinho, whose side remain top of the Premier League, has yet to win at Newcastle in five attempts as a Chelsea manager but had little complaint with his players.
"I lost the game the way I like to lose," said the Portuguese.
"I don't blame the referee because the referee was good, I don't blame my players for complacency or lack of attitude because they gave absolutely everything."