Premier League: Chelsea, Man City, Arsenal and Liverpool
Last updated on .From the section Football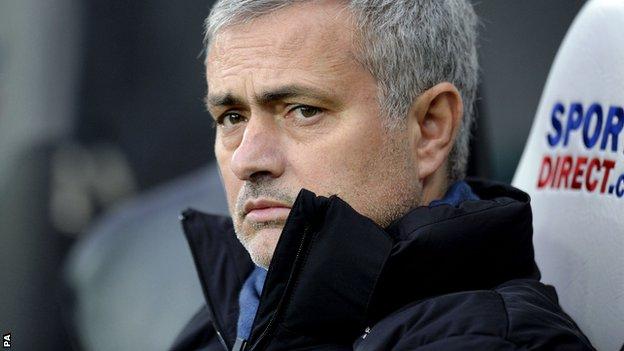 Chelsea's unbeaten Premier League start ends, Manchester City - despite losing key striker Sergio Aguero to injury - move to within three points of the summit and Arsenal lose for the third time in five top-flight games.
Here, Match of the Day's pundits discuss Saturday's action after another day of drama at both ends of the table.
Arsene under pressure?
Three defeats in five top-flight games, 13 points behind leaders Chelsea and 3-0 down at half-time against Stoke... these are tough times for Arsene Wenger and his mis-firing Arsenal side. Despite two second-half goals, the Gunners slipped to another defeat at the Britannia Stadium after a poor defensive performance. Arsenal boss Wenger responded by calling his side 'soft' after his defence won just one tackle in the match. But what next for the Frenchman? Are Arsenal's title chances over for another season?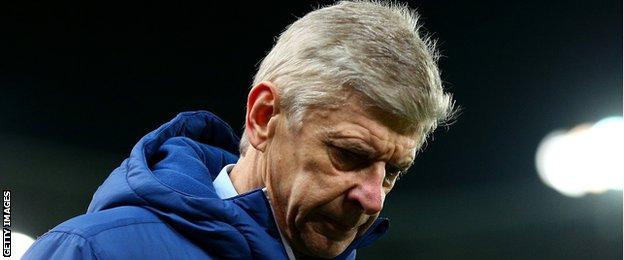 Former England striker Alan Shearer on MOTD: "If you go to Stoke you are going to have to roll your sleeves up, fight, scrap and battle. Arsenal did not do that. It was a shambles, embarrassing... whatever words you want to use. It was laughable. They are 3-0 down, it really was shambolic. Until Arsene improves Arsenal defensively they have no chance of winning the league. Having said that, I still think they will finish in the top four because that is what they do."
Former Manchester United striker Andy Cole on Final Score: "To get 3-0 up at home against any team is good, but to do it against a top team like Arsenal? Stoke harassed them, they got stuck in. It should take more than that to knock a team off their stride at this level, but for some reason Arsenal cannot get over the problems they have at Stoke."
Bang goes Chelsea's unbeaten start
Eleven wins, three draws... Chelsea arrived on Tyneside with people beginning to wonder whether they could go all season undefeated. Jose Mourinho's side, nine points clear of Manchester City at the start of November, ended the day with a mere three-point lead after a 2-1 defeat at Newcastle - their first since 19 April. A blip, or something more serious?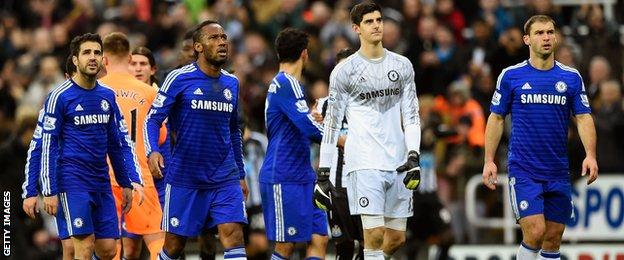 Former Chelsea manager Ruud Gullit on MOTD: "The problem for Chelsea is that they are going to face more teams like this away from home. They have already faced Sunderland and only managed a draw so the question is what are you going to do against it?
"If Chelsea play with so many players through the middle and it doesn't end up working then you have to have a plan B. When Didier Drogba came on it changed their formation because they had two players up front, Drogba and Diego Costa, but it just didn't seem to work for them. Jose Mourinho did change things eventually, but it was too late."
Former Newcastle striker Alan Shearer on MOTD: "Chelsea didn't play that well. There is no doubt they missed Nemanja Matic. He has started every game for them this season but John Obi Mikel was in there against Newcastle and didn't do as well. In the build-up to Newcastle's second goal, Mikel dives in, Eden Hazard dives in. There is no-one sitting in front of the back four. That said it was a really committed Newcastle performance. They were really well organised and every player knew what job they had to do. It was a thoroughly-deserved win."
Four out of four for Man City
Not since the end of last season - when they won five in a row to clinch the title - have Manchester City won four games on the bounce. But Manuel Pellegrini's side are on a roll after overcoming a potentially serious knee ligament injury to influential striker Sergio Aguero to see off Everton 1-0. But how long will Aguero, the Premier League's leading scorer, be out for? And can City keep their winning run going in his absence?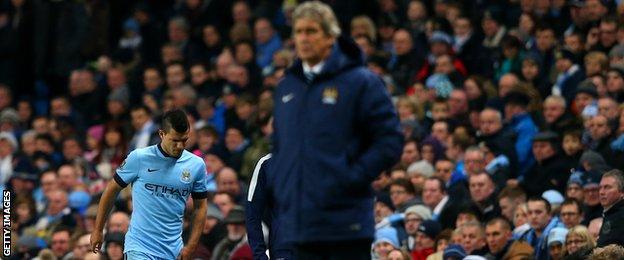 Former England striker Alan Shearer on MOTD: "Sergio Aguero has been incredible for Manchester City this season. He has produced the goods week after week. It would be a massive blow if he is out. I have to admit that I did fear the worst when I saw the physio but I hope it's not too bad."
Optajoe on Twitter: No-one has been shown more yellow cards than Gareth Barry in Premier League history (99; level with Kevin Davies and Lee Bowyer).
Former Man City midfielder Dennis Tueart on BBC Radio Manchester: "City had to show a different part of their qualities and title-winning credentials. When you lose your main goal-scorer to injury you have to show the whole qualities of the team. To win the league is a marathon not a sprint and City showed they are dogged and have the determination and discipline to challenge."
Should Rodgers have started with Gerrard?
Another game without Steven Gerrard in the starting line-up, another scrappy Liverpool display. Brendan Rodgers might have seen his side extend their unbeaten league run to three games, but the goalless home draw with Sunderland was as drab as it sounds. With a crucial Champions League game against Basel on Tuesday, manager Rodgers opted to leave 34-year-old Gerrard on the bench until the 67th minute. It doesn't get any easier for the Reds. Their next two league games? Manchester United away and Arsenal at home. But will Gerrard start either of those games?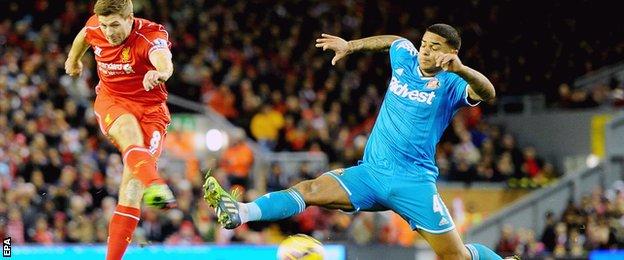 Former Manchester United striker Andy Cole on BBC Final Score: "To get the best out of Steven Gerrard and the best for Liverpool, he and the fans have to acknowledge he may have to take a rest.
"You've got to accept that you need to have a rest when you get to a certain age. Paul Scholes played for Manchester United right up to his retirement, Ryan Giggs played until he was 40, but he wasn't playing every week, he would have regular spells out of the team."