Sunday Oliseh fears for future of Nigerian football
Last updated on .From the section Football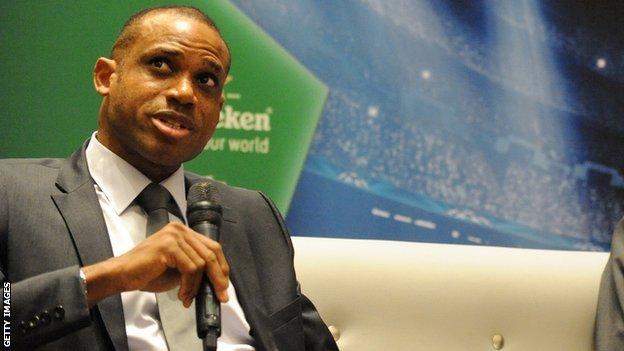 Former Nigeria captain Sunday Oliseh believes the glory days of the country's national team will not return unless they "get their house in order".
Nigeria have been on a downward spiral in the past year and failed to qualify for the 2015 Africa Cup of Nations.
Oliseh told BBC Sport: "We have got technical problems and administrative problems - it is too much for one nation, even if you are Nigeria.
"At the moment it is bleak. We need to face up to the job and get organised."
Oliseh knows what it takes to achieve success, having been part of the Nigeria squad that won the Africa Cup of Nations in 1994 and the Olympic gold medal two years later.
He also played at the World Cup in 1994 and 1998, helping the Super Eagles to the last-16 at both tournaments and in the latter he scored a memorable winner as Nigeria shocked Spain 3-2 in a group match.
Those teams were filled with players referred to as the "golden generation" of Nigerian football; among them were Jay-Jay Okocha, Nwankwo Kanu and Finidi George.
But Oliseh cannot see where the next generation is going to come from.
"During the 1990s a lot of the players were products of the Nigerian league. Those who were playing in Europe had only left two or three years before. Myself, I had moved to Europe only four years before the 1994 World Cup.
"It was not as if it was Europe that made us - the Nigerian league produced us;, it was so competitive then, it was viable and credible.
"The national team does not create players - you select your best players from your clubs to play in the national team.
"But now our attention is more focused on the national team and we have neglected the domestic league, that is the major problem in Nigerian football.
"If we cannot get the league in order we will never have another golden generation."
The former Ajax and Juventus midfielder, who played 63 times for his country, is also concerned about the issues off the field.
Nigeria's Football Federation is in disarray because of in-fighting over the presidency - ongoing battles that have led Fifa to ban the team for governmental interference in football matters.
In decline
And there has been instability in management, with coach Stephen Keshi removed from his position only to be re-appointed following intervention by President Goodluck Jonathan before being released again after his side were eliminated from Nations Cup qualifying.
It was only in 2013 that Keshi led Nigeria to the Nations Cup title in South Africa and he also steered the team to the last-16 at this summer's World Cup in Brazil.
Nigeria's fall since then has been rapid. And Oliseh believes there needs to be consistency as well as clear boundaries over roles.
"To fix it we have to get our house in order," he said. "And it is not too far fetched, the solution to this. For example, if we have a Football Federation president who is doing well, let's leave him in the job.
"It is great that Nigerian are passionate about football, that they have opinions like a coach. But in reality, everybody thinks they know football - not because they play football but because they know football. It doesn't work like that.
"We need to let people who are technicians do the technical work. If you are going to talk about tactics or physical, let that be somebody who has that expertise."