Real Madrid fans reported for Lionel Messi and Barcelona abuse
Last updated on .From the section European Football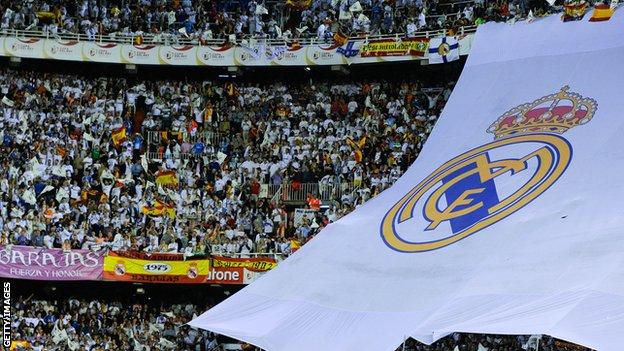 Real Madrid supporters who took part in abusive chants about Lionel Messi and Barcelona will be reported to the Spanish Football Federation (RFEF), says La Liga president Javier Tebas.
Fans targeted arch-rivals Barca, and singled out their star player Messi, in Saturday's home win over Celta Vigo.
"There were insults and unacceptable chants at the Bernabeu, so I gave the order to report them," said Tebas.
Spanish media say Real have identified and banned 17 fans who sang abuse.
Referee Alberto Mallenco did not mention the offensive chants in his match report on Madrid's 3-0 victory, but Tebas has pledged to refer the incident to the RFEF's competition committee.
Violent and abusive supporters are being targeted by clubs, footballing authorities and the Spanish government in response to the death of a Deportivo La Coruna supporter after violent clashes between rival fans before the match at Atletico Madrid last month.
"Our new commitment is that if the referee does not hear it, we will draw attention to it," added Tebas.
"We have taken this decision and we will continue down the same path."