Manchester United will keep spending, says share prospectus
Last updated on .From the section Football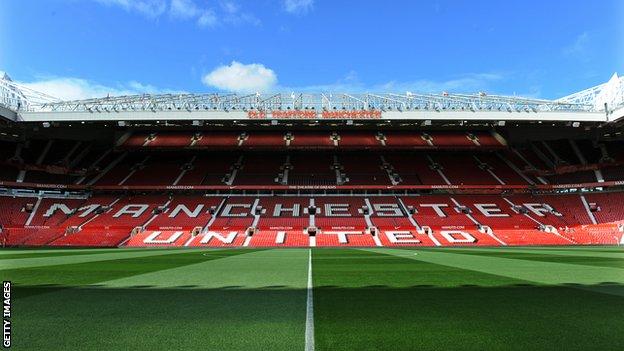 Manchester United have confirmed they are set to continue their spending spree after part-owner Edward Glazer put three million shares up for sale.
In a sale prospectus, the club say they "anticipate a higher level of net player capital expenditure".
Edward Glazer, son of former United owner Malcolm, was handed an equal share along with his five siblings when their father died in May 2014.
The sale of the shares could be concluded by the end of the week.
After a 2013-14 season in which United failed to qualify for the Champions League, new manager Louis van Gaal spent £150m on new players in the summer including a British record £59.7m to bring Angel Di Maria from Real Madrid.
On Friday, the Dutchman reacted angrily to reports he will once again spend heavily, describing them as "disgusting" and "disrespectful".
However, the prospectus says United expect money will be spent and hints at contract extensions for existing players, saying cash may go "to retain talent and enhance the calibre of our team in the near term".
The Glazer family retained a 90% share in United when 10% was listed on the New York Stock Exchange in August 2012.
BBC Sport understands that the three million shares up for sale amount to around 2% of the company and represent around 15% of Edward Glazer's personal holding.
The family has previously sold some of their shares, and in July announced they would be disposing of eight million more to raise about £88.7m.
Following the sale, the Glazer family will own about 80% of shares in the Premier League club, although they will retain close to 95% of the voting rights.
Edward Glazer, who serves as co-chairman of NFL franchise Tampa Bay Buccaneers and is co-president of the Glazer Family Foundation, will use the funds, expected to be around £28.7m, for personal estate planning.
The prospectus also warns investors that they may not receive dividends on the shares and that anti-takeover measures taken by the club mean it may not be sold to potential new owners even if a transaction would be beneficial to shareholders.
It also warns that share price may go down if the team underperforms and fails to qualify for Europe again.
A statement from the Old Trafford club read: "Manchester United plc today announced the offering of 3,000,000 of its Class A Ordinary Shares by the Edward S. Glazer Irrevocable Exempt Trust (the 'Selling Shareholder').
"The underwriter will have an option to purchase up to an additional 450,000 Class A Ordinary Shares from the Selling Shareholder.
"Manchester United will not receive any proceeds from the sale of any Class A Ordinary Shares by the Selling Shareholder.
"The offering is expected to close on 12 December 2014, subject to customary closing conditions."