Mali can win Nations Cup - Sambou Yatabare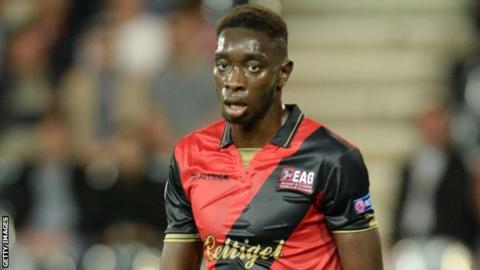 Mali midfielder Sambou Yatabare believes his country are capable of winning the 2015 Africa Cup of Nations.
The Eagles have not won the tournament but were runners-up in 1972 and finished third in 2012 and 2013.
Yatabare, 25, told BBC Sport: "We have strong confidence in ourselves and if we play 100%, we can win it.
"The aim of all the teams going to this competition is to win. If you don't believe you can achieve that, then you must stay at home and not turn up."
Mali were beaten 3-2 by Congo in the final in Cameroon 42 years ago, and the current generation is eager to go one better in Equatorial Guinea.
Mali's Nations Cup record
1957 to 1963 - Did not enter1965 to 1970 - Did not qualify1972 - Runners-Up1974 and 1976 - Did not qualify1978 - Disqualified1980 - Did not enter1982 to 1986 - Did not qualify1988 - Withdrew1990 and 1992 - Did not qualify
1994 - Fourth place1996 to 2000 - Did not qualify2002 - Fourth place2004 - Fourth place2006 - Did not qualify2008 - Round 12010 - Round 12012 - Third place2013 - Third place
They have a blend of experience - with the likes of 34-year-old midfielder Seydou Keita, who will be playing at his seventh Nations Cup finals - and highly-rated young players.
And despite being drawn against Cameroon, Ivory Coast and Guinea, the Eagles are optimistic they will go far at the 17 January to 8 February competition.
"We are happy and at the same time we know we've been pitted in a tough group. Everybody knows it's important to qualify from this group, said Yatabare, who is in the squad alongside his older brother Mustapha.
"After that, we can take the fight to our next opponent. But that's why we play football as professionals and for our country, for a moment like this.
"Our mindset is that all the teams are difficult and any team can beat the other teams in the Africa Cup of Nations.
"We are going there as a formidable team to compete against the best and not to make up the numbers."
Yatabare, who rejected a chance to represent his country of birth France, has made 14 appearances for Mali and has scored one goal.
He joined French side Guingamp in August on a season-long loan from Greek Super League side Olympiakos.
He has also played for French clubs Monaco, Caen and SC Bastia.