Tommy Craig's exit from St Mirren was inevitable

By Richard Wilson
BBC Scotland
Last updated on .From the section St Mirren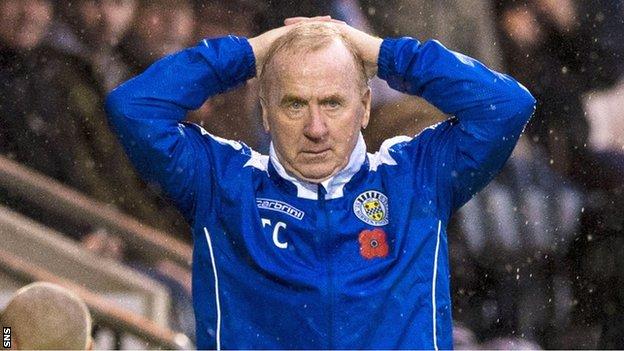 The bare facts alone are damning for Tommy Craig. St Mirren won only three of his 19 games in charge, they have scored only twice in their last six league games, and they have failed to keep a clean sheet all season.
Craig's departure has seemed inevitable for weeks, not least because Ross County, by design, and Motherwell, through circumstance, have also addressed the need to replace their managers.
All three clubs are within two points of each other at the bottom of the Premiership, and will already feel that time is against them in the fight to avoid relegation or the play-offs.
Craig had clung grimly to his position, but he was never able to convince that the team's form, or his own fortunes, could be altered. The St Mirren support had lost patience, and following the 4-0 Scottish Cup defeat to Inverness Caledonian Thistle, the directors could not contain their doubts any longer either.
Although always prepared to address the media, even immediately after setbacks, Craig did not communicate his point deftly on every occasion.
When asked if he had a message for fans after one defeat, he recognised a sensitive moment, but responded by saying: "Nothing". That would have rankled supporters, yet Craig would also not have wished to patronise them by asking for time or patience.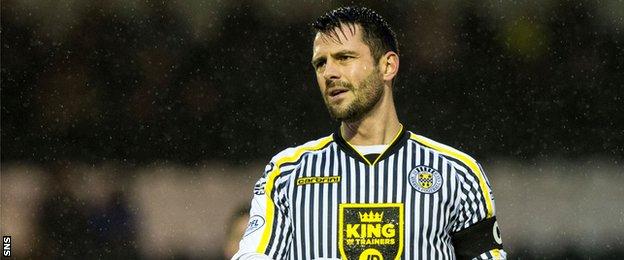 Yet he might have bought himself some time if St Mirren had defeated St Johnstone in their next game in the Premiership, but a 1-0 defeat sealed his fate. A trip to London, to scout players, meant that it was three days later when the decision to change manager was formalised.
There are no preferred candidates at this stage, and the directors will take time to appoint a replacement. That was, perhaps, the key mistake they made last summer. Having decided to replace Danny Lennon as manager, ostensibly because the directors felt a change in direction was needed, seemed ill-judged.
He had been Lennon's assistant for three years, he had been a central influence on the team's style of play and form, and he had a poor track record as a manager. A vastly experienced coach and assistant manager, Craig had only been in charge of the Scotland Under-21s and the Belgian side Charleroi.
More attention ought to have been paid to that latter spell. It, too, lasted 19 games, bringing only two wins and three draws, almost exactly how events turned out at St Mirren. To many in the game, Craig is a talented coach, but there have been few ringing endorsements for his man-management style.
Richard Wilson on Tommy Craig's appointment in May
"The directors are culpable for the team's current predicament because the potential disadvantages were evident at the time."
There was little surprise, too, in the reactions to him taking over from Lennon, when the norm in the game is for assistants and coaches to leave a club at the same time as the manager that appointed them in the first place. Within 24 hours of Lennon's departure, Craig was in place as his successor, which prompted questions of a lack of loyalty.
"I know Danny wanted me to take it," Craig said at the time. "It wasn't an awkward conversation between us." In public, Lennon has remained diplomatic. Amongst the reactions of the players was surprise, since the appointment was continuing the previous regime, and so there wasn't the sense of a new chapter beginning, and the optimism or promise that brings.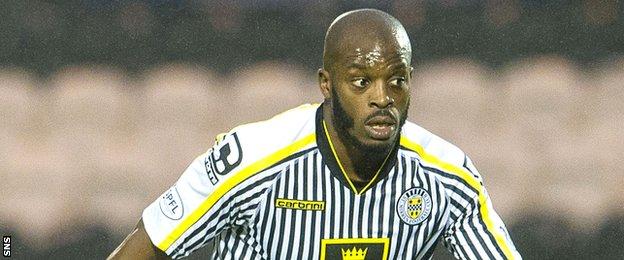 New players arrived, but they did not improve the team. Ellis Plummer, on loan from Manchester City, has looked an able centre-back, but has also been injured. Isaac Osbourne would have been a robust presence in midfield if injuries had not robbed him of much of his season so far, but James Marwood and Callum Ball have offered little attacking thrust or goalscoring threat.
St Mirren have been dogged by injuries this season, particularly to influential figures like Stephen Thompson and John McGinn, but Craig's recruitment strategy was flawed and if the team is to pull clear of the relegation zone, then the window of opportunity that January provides will be critical.
St Mirren have scant resources, but management of the wage bill is always possible. Morale and confidence need to be restored, too.
The appointment of Craig was the wrong decision, and the directors are culpable for the team's current predicament because the potential disadvantages were evident at the time. They have acted decisively now, and so left time for the season to be redeemed.
Craig will feel sore about his fate, but his spells in management suggest that his forte might be coaching.