QPR keeper Robert Green dismisses report of fight at lunch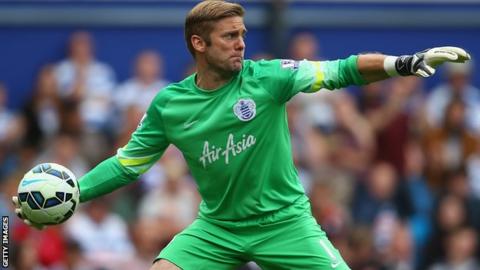 QPR keeper Robert Green has dismissed reports of an altercation involving team-mates at a Christmas lunch.
The Sun claimed Steven Caulker was injured in a fight at a pub where Crystal Palace players were present.
QPR denied the newspaper's version of events, saying the defender was taken to hospital after slipping and cutting his head.
Green, 34, told BBC Radio 5 live: "If you wanted an accurate headline on the story, it would be: 'Man falls over'."
QPR's head of communications Ian Taylor had already explained that players had been given permission to have Sunday lunch together given the club's next game against Everton was not until Monday, 15 December.
He added: "Steven Caulker was not involved in an altercation.
"He suffered a cut to his head, which he received treatment for at hospital before being discharged the same evening."
Green echoed Taylor's statement.
"The club have said pretty much what happened," said the former West Ham and Norwich goalie.
"He came out, slipped over and banged his head.
"I think Joey Barton was called a peacemaker, but it's the first he knew of it.
"Steven was back out of hospital and we had a laugh about it. Unfortunately, it's made the front page of the paper."