St Mirren manager's job hard to refuse - Steven Thompson
Last updated on .From the section St Mirren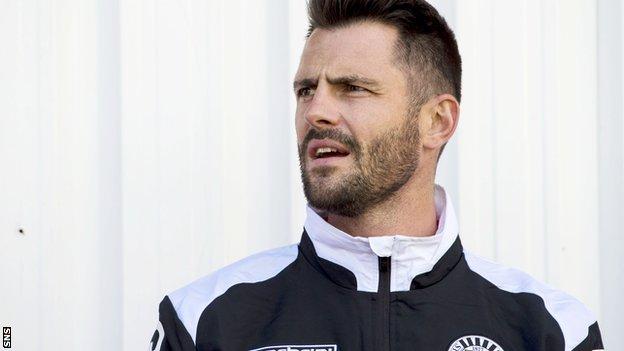 St Mirren captain Steven Thompson has admitted he would find it difficult to turn down the chance to manage the club in the wake of
However, the 36-year-old striker's immediate priority is winning games and supporting interim boss Gary Teale.
"One day in my life, yeah, I'd never say never," said Thompson when asked if he would like to become manager.
"I wouldn't commit to that right now, but if I was offered it then it would be very hard to knock back."
The veteran attacker said he did not feel that Craig had lost the backing of the Buddies players and pointed to the run of injuries to key players, including himself, as a factor in St Mirren's poor run of form.
"Perhaps the balance within the squad could have been better," Thompson told BBC Scotland.
St Mirren interim manager Gary Teale
"It's something I am really excited about. I was planning to go into football coaching a few years down the line."
"I think we had an awfully young squad. When things aren't going well it's good to have a few more people who have been in situations and can help with input with the younger players and get them through tough times.
"We're obviously disappointed to see him go; you never want to see someone lose their job. He tried awfully hard to get things right.
"It's up to us now as a group of players to try to get things right quickly."
St Mirren enjoyed only three wins in 19 matches under Craig. Knocked out of the Scottish League Cup and the Scottish Cup, they are above bottom Scottish Premiership side Ross County on goal difference alone.
"We're aware that results were unacceptable and we have to take part of the blame for that," continued Thompson.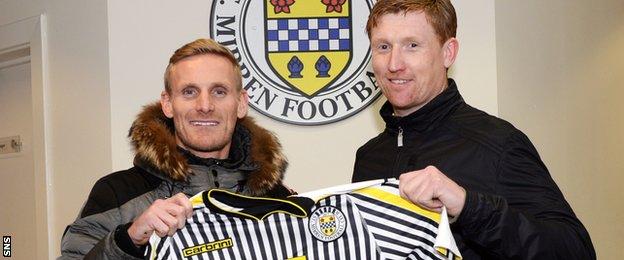 "As a player, when you cross the white line on to the pitch ultimately it's you who makes the decisions and makes the mistakes.
"As a team we haven't been good enough, but Tommy has been in the game long enough to know it's the manager who pays the price.
"But we need to look forward now because we are very much in a relegation battle. We need to show a determination to get ourselves out of this situation."
The striker said he and the rest of the players would be working hard to get a good result at Celtic Park on Sunday and admitted the following week's match against Motherwell might provide a chance to secure a first home win of the season.
Player-coach Teale, assisted by youth coach David Longwell, will be in charge until an appointment is made.
"I think with Tommy we had a lot of bad luck in terms of the injuries to key players, who we missed for a long time," said the former Scotland winger.
"To have this opportunity, albeit on an interim basis, is something I am looking forward to.
"It's something I am really excited about. I was planning to go into football coaching a few years down the line."
Asked if he would be interested in the post in the longer term, Teale, 36, replied: "I definitely would. It's a great challenge.
"But 500 applications probably hit the chairman's door 10 minutes after they announced it."
One possible applicant is the former Saints midfielder and former Scotland Under-21s manager Billy Stark, who is understood to be interested in the position.