Faustino Asprilla: Ex-Newcastle striker leaves home after threats
Last updated on .From the section Football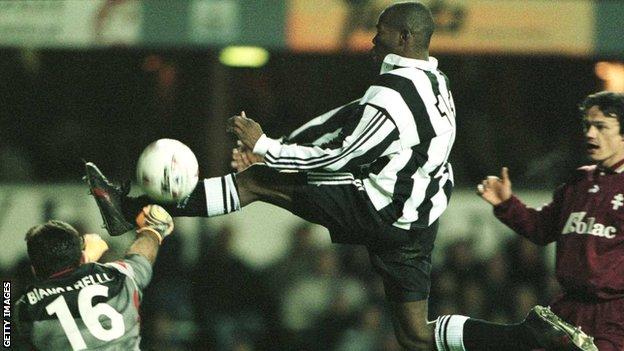 Former Newcastle United striker Faustino Asprilla has been forced out of his home city in Colombia after being threatened by a gang of armed criminals.
Asprilla said masked men entered his home in Tulua to demand money.
"They threatened me," said the 45-year-old. "They told me to contact their chief because if I didn't they would kill my family and me.
"I took the decision to leave Tulua for the security of my loved ones."
Asprilla made 54 appearances for the Magpies between 1996 and 1998.
He scored 12 goals, including a memorable 22-minute hat-trick in a 3-2 Champions League win over Barcelona in 1997.
"I had to leave my own land, Tulua, as a victim of extortion by a group of anti-socials," Asprilla told daily newspaper El Tiempo.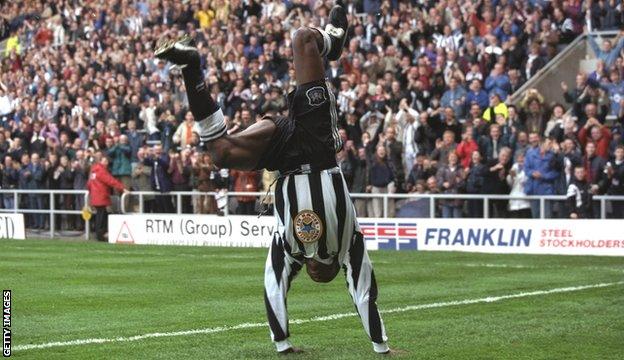 "My family was threatened in my presence, my father, my sisters."
Asprilla retired 10 years ago after a career that included winning the European Cup Winners Cup and Uefa Cup with Italian side Parma.
He also won 57 caps for Colombia, scoring 20 goals, and played at two World Cups.
"I dedicated my life to representing my country abroad, to giving happiness to my Colombian people," Asprilla added.
"When I settled down to rest, to recover the time lost with my family, I'm forced to leave by the back door of my own town."
A police source said Asprilla's case is one of many similar incidents in south-west Colombia.
The source added that it is being investigated by national police chief Rodolfo Palomino, who has guaranteed the player and his family protection while the police try to identify and capture the masked men.