Dundee United monitor Australia for possible development
Last updated on .From the section Football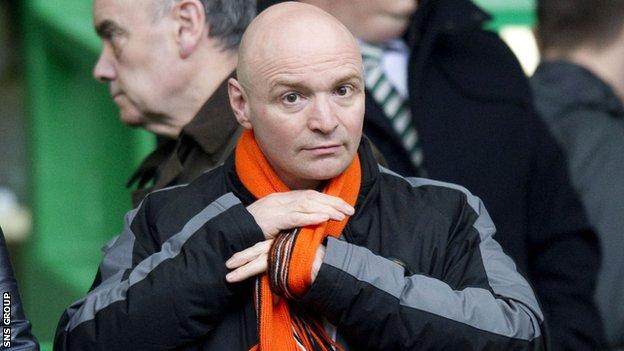 Dundee United say they are examining the Australian market after being linked with a takeover of A-League club Newcastle Jets.
It follows a newspaper story suggesting that United chairman Stephen Thompson was in negotiations with Jets owner Nathan Tinkler.
"Australia is simply one of a number of countries that Dundee United is monitoring," read a United statement.
"At all times, the board will act in the best interests of this club."
Thompson was in Australia last month and met with representatives of Adelaide United, Sydney, Western Sydney Wanderers and Perth Glory.
The United statement described Thompson's visit as "part of a wide-ranging fact finding mission".
The statement continued: "This board's view is that football is a global market place and, as part of our aim to develop Dundee United Football Club, we are continually seeking opportunities to improve on and off field.
"Mr Thompson's visit to Australia provided a worthwhile insight into a league that is progressing rapidly, whose clubs are part of a growing market in world football and is home to a number of very promising young players.
"Our philosophy remains focused on the identification and professional development of the best young footballing talent available."