Lightning strikes Peruvian footballer
Last updated on .From the section Football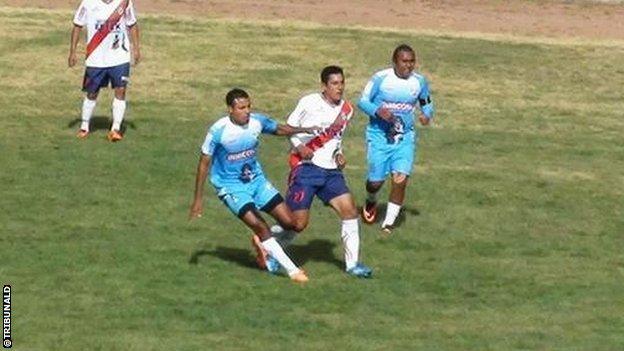 A Peruvian footballer was struck by lightning during a cup semi-final, sustaining burns to his legs and causing the match to be abandoned.
Joao Contreras, 21, of Sport Aguila was hit during his side's Copa Peru tie against Union Fuerza Minera.
A linesman was also struck at the same time and both are now recovering in hospital.
Fuerza Minera described the incident on their Twitter account as "a terrible fright".
The club added: "Thank God those affected are out of danger."
The lightning strike occurred with the second leg of the semi-final poised at 1-1, Fuerza Minera having won the first leg 6-3.
There has not yet been any official confirmation of when the match will resume, but Fuerza Minera suggested on Twitter that the second half was likely to be played on Thursday or Friday.