Champions League: The story of this year's group phase
Last updated on .From the section Football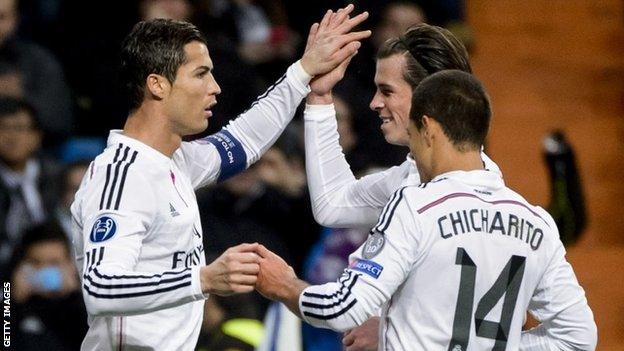 The Champions League group stages ended on Wednesday with Manchester City going through thanks to victory in Rome.
Here is everything you need to know about what happened in the 96 matches so far before Monday's last-16 draw.
Who is into the last 16?
Arsenal, Chelsea, Manchester City, Atletico Madrid, Juventus, Real Madrid, Basel, Monaco, Bayer Leverkusen, Borussia Dortmund, Bayern Munich, Barcelona, Paris St-Germain, Schalke, Porto, Shakhtar Donetsk
Who drops down to the Europa League's last 32?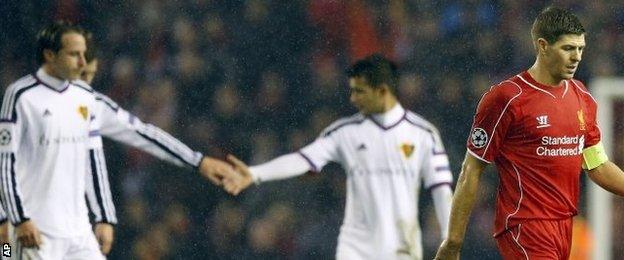 Liverpool, Olympiakos, Zenit St Petersburg, Anderlecht, Roma, Ajax, Sporting Lisbon, Athletic Bilbao
Who is out of Europe?
Malmo, Ludogorets Razgrad, Benfica, Galatasaray, CSKA Moscow, Apoel Nicosia, Maribor, Bate Borisov
Who could the English sides face in Monday's last-16 draw?
Arsenal - Atletico Madrid, Real Madrid, Monaco, Bayern Munich, Barcelona, Porto
Chelsea - Juventus, Basel, Bayer Leverkusen, PSG, Shakhtar Donetsk
Manchester City - Atletico Madrid, Real Madrid, Monaco, Borussia Dortmund, Barcelona, Porto
Country-by-country breakdown of the last-16 teams
4 - Germany (Bayer Leverkusen, Borussia Dortmund, Bayern Munich, Schalke)
3 - England (Chelsea, Arsenal, Manchester City)
3 - Spain (Atletico Madrid, Real Madrid, Barcelona)
2 - France (Monaco, Paris St-Germain)
1 - Italy (Juventus)
1 - Portugal (Porto)
1 - Switzerland (Basel)
1 - Ukraine (Shakhtar Donetsk)
No new faces
Every one of the 16 teams in the knockout stages have been at that stage before.
Chelsea top the scoring charts
Chelsea were the top scorers of all 32 teams in the Champions League group stages with 17. This is despite the fact that none of their players scored more than two goals. John Terry is their joint top scorer, while Diego Costa is yet to net in the tournament.
Real Madrid perfect
Real Madrid - one of only six teams to ever finish a Champions League group with maximum points - became the first team to do it twice this season.
Their 16 goals were the joint second-highest - along with Bayern Munich and Porto - behind Chelsea.
Barcelona top the pile again
Barcelona have finished top of their Champions League group for an eighth consecutive season. The last team to beat them to top spot were Chelsea back in 2006-07, with Barca losing to Liverpool in the last 16.
75 and counting - Lionel Messi winning record duel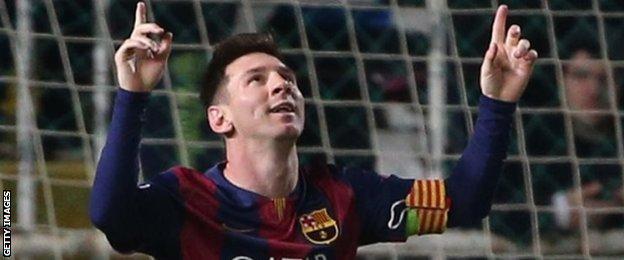 Lionel Messi and Cristiano Ronaldo came into the season on 67 Champions League goals each, four behind Raul's record of 71. Messi broke it on 25 November with a hat-trick in Barcelona's 4-0 win at Apoel Nicosia - taking him to 74. He has since scored number 75, against PSG.
However, it is a record that could be broken many times in the coming years, with Ronaldo now up to 72.
21 October 2014 - the night of records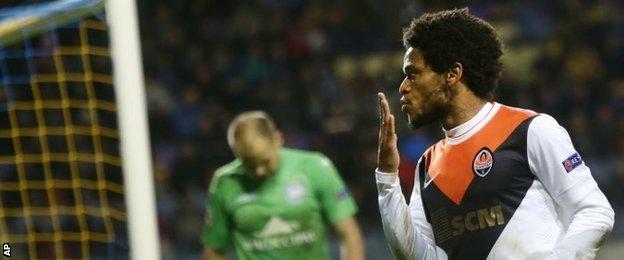 Shakhtar Donetsk thrashed Bate Borisov 7-0 for the joint-biggest away win in Champions League history, with Luiz Adriano scoring five, levelling Messi's tournament record for goals in a single match. Six of the Ukrainian side's goals were in the first half - another record.
There were 40 goals over the night - another tournament record for a matchday with eight games. (The 1997 record of 44 goals were across 12 matches).
Scaled down and goal shy, but Monaco are through
Monaco sit seventh in the French league after moving on star names James Rodriguez and Radamel Falcao during the summer as they cut their budget dramatically.
So the fact they scored only four goals in the Champions League group stages may not be a major surprise.
However, remarkably that has been enough to take them through as Group C winners thanks to a 2-0 win, two 1-0 victories and two goalless draws. By contrast, Sporting Lisbon - with 12 goals in Group G - did not qualify.
Most leaky defence ever, but not the worst team
Bate Borisov have conceded a record 24 goals in the Champions League group stages. They went into Wednesday's game with Athletic Bilbao sharing the record of 22 with Dinamo Zagreb (2011-12) and FC Nordsjaelland (2012-13) and then lost 2-0 to the Spanish side.
However, their 2-1 win over Athletic earlier in qualifying means they picked up more points than Galatasaray and Apoel Nicosia (one each) this season.
The top players of the group stages...