Barry Ferguson: No regrets on Paul Le Guen fall-out
Last updated on .From the section Rangers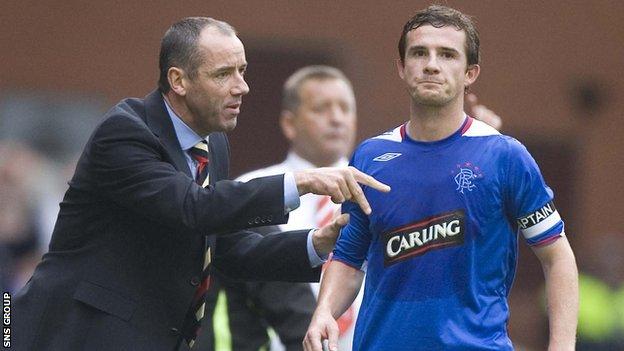 Former skipper Barry Ferguson insists he would "shake hands" with his former Rangers manager Paul Le Guen if they were to meet again.
Le Guen claimed the midfielder was undermining him in the dressing room.
But Ferguson told BBC Scotland: "I respected him as a person and as a manager. I never went over his head or behind his back."
Le Guen arrived in Glasgow in the summer of 2006 after successful spells with Rennes and Lyon but was in charge at Ibrox for just seven months.
Ferguson said he had "no regrets" over the fall-out, revealing that he had expressed his frustration after a loss at Inverness Caley Thistle, adding "there was no fisty-cuffs, no shouting".
"Inverness bullied us that day," he recalled on BBC Radio Scotland's Sportsound. "We went 1-0 up and they ended up winning 2-1.
"At that stage we'd had a couple of bad results, home and away. Paul Le Guen came into the dressing room and said 'don't worry, it'll be all right if we all stick together'.
"It was about the sixth or seventh time we'd had a difficult result and I'd just had enough.
"I said 'we're Rangers and I got brought up with winning as the only thing - a defeat is never acceptable'.
Barry Ferguson on the end of his Scotland career
"I sent the family away on holiday because I needed a long, hard look at myself. I spent a week locked in the house."
"I never had an argument with him. I said a couple of things - maybe five or 10 seconds - and he just looked at me.
"As captain, I thought I had to say something, I was sitting down. A few of the other guys had a word to say.
"I never once undermined him. There's a limit as a captain and as a player."
Following Le Guen's departure, Ferguson was reinstated as captain by Walter Smith and led Rangers to a cup double and the Uefa Cup final in the following season.
However, he would once again lose the captaincy at Rangers in April 2009, following misconduct while on Scotland duty.
He left for Birmingham at the end of the season and declined a later approach to add to his 45 international caps.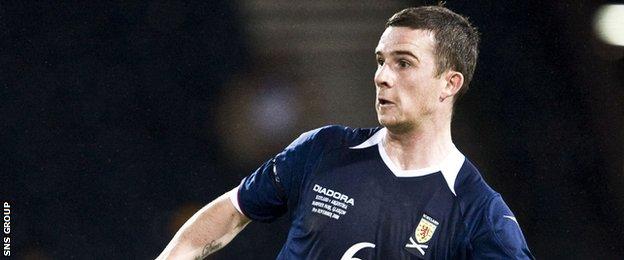 "That's the only thing in football - if I could turn back the clock - I would," said Ferguson of the drinking session after defeat by the Netherlands and making V-signs on the bench a few days later against Iceland.
"It was immature, just silly. I don't know what I was doing. I was on a different planet.
"To captain your country is the ultimate (honour) and I just messed it up - I deserved everything I got."
As well as bringing an end to his Scotland career, Smith gave him a two-week club suspension.
"I knew that was it," Ferguson explained. "I needed to go away and reinvent myself. I needed to give myself a shake and grow up.
"I sent the family away on holiday because I needed a long, hard look at myself. I spent a week locked in the house.
Barry Ferguson on his Rangers return in 2005
"Looking back, I should have stayed to make a better career for myself."
"A lot of clubs wanted me at the time but after what happened with Scotland they were humming and hawing and (then Birmingham boss) Alex McLeish took a gamble.
"He was a manager I had worked with before and had success with but he wasn't completely sure.
"He gave me a chance and I had a great time at Birmingham. I knew I had to prove that I could still play at the highest level."
Ferguson played 431 games in two spells at Rangers, returning in 2005 after 18 months with Blackburn Rovers.
He admits the pull of his old team was too much to resist but thinks it may have been best to stick it out in England.
"I struggled in a new environment then I shattered my kneecap and was out for seven months," Ferguson said of his time at Ewood Park.
"But I came back and was playing really well, I was captain. (Manager) Graeme Souness left to go to Newcastle and wanted to take me there and there was another couple of clubs who had enquired.
"Then I got a call from Rangers and that was me. I didn't want to talk to anybody else.
"Looking back, I should have stayed to make a better career for myself, maybe get a chance with a top six, top eight team."