Chelsea's Jose Mourinho wary of 'sharks' in Champions League
Last updated on .From the section Football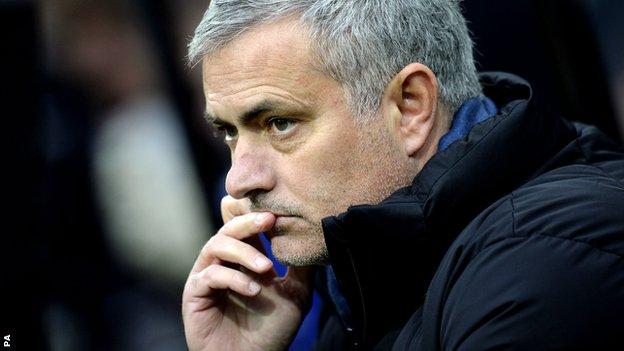 Jose Mourinho is keen to avoid one of the "sharks in the ocean" awaiting Chelsea in the draw for the last 16 of the Champions League.
Monday's draw will pair Chelsea against either Juventus, PSG, Basel, Bayer Leverkusen or Shakhtar Donetsk.
"We don't fear anybody, but we know there are very good, strong teams in this competition," Mourinho said.
"Last year we were close and we didn't have the team playing at such a high level as we do this season, so we can dream we will do it.
"But let's see if the sharks let us, because there are a few sharks in the ocean."
The Special One on swimming with sharks
"Yes, I like. In a cage. I did it in French Polynesia. I didn't want to go, but my wife and my kids, they pushed me."
While Chelsea have avoided the likes of fellow group-winners Real Madrid and Bayern Munich, French champions Paris St-Germain and Italy's Serie A-winners, Juventus, finished second in their groups and could prove tricky knockout opponents.
The draw for the last 16 of the Champions League prevents sides from playing teams from their own association, or sides whom they faced in the group stage.
Mourinho believes "the real Champions League starts now" after Chelsea stormed through their group scoring 17 goals.
"I don't think any of the big teams are out of the Champions League now... maybe Liverpool," he added.
"But all the teams that want to win the competition, they're all in the competition.
"Season after season you repeat this, normally everyone is in the last 16. The Champions League starts now."
Mourinho added he was "happy" to see Premier League rivals Manchester City and Arsenal also reach the last 16.
"I work in England. I want the prestige of English football and I hope they do well," he said.
"We have also Liverpool, Tottenham and Everton in the Europa League, so I wish them good too.
"At the same time it's good for us that our direct opponents in the Premier League are involved in European competitions.
"Manchester United are not. They have the same advantage that Liverpool had last season in terms of the Premier League, a big advantage."