Tottenham fined by Uefa following Europa League pitch invasions
Last updated on .From the section Tottenham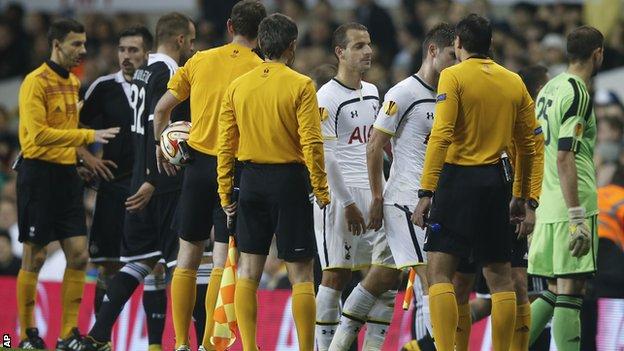 Tottenham have been fined £11,870 by Uefa for multiple pitch invasions during their Europa League match against Partizan Belgrade last month.
Three disturbances - orchestrated as an internet prank - took place at White Hart Lane which caused the match to be suspended for around 10 minutes.
A video posted on YouTube shows three men planned the pitch invasions.
Spurs issued an apology for the "totally unacceptable behaviour" and the men were arrested after the match.
Uefa's control, ethics and disciplinary body (CEDB) dealt with the case on Thursday afternoon, ahead of Spurs' Group C clash with Besiktas.
The tie with Partizan, on 27 November, was suspended four minutes prior to half-time before Tottenham went on to win 1-0 and secure their place in the knockout stage.
The YouTube video suggests that the stunt was a challenge to see which of the men could remain on the pitch for the longest time.