Nigel Pearson: Leicester manager charged by Football Association
Last updated on .From the section Football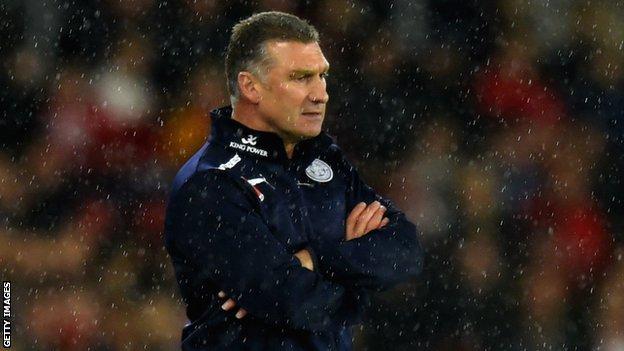 Leicester City manager Nigel Pearson has been charged by the Football Association after an incident with a fan during their 3-1 loss to Liverpool.
An FA statement said that Pearson was alleged to have "used abusive and/or insulting words towards a spectator".
The 51-year-old was last week labelled arrogant by the chairman of a Leicester supporters group after he refused to apologise for his part in the spat.
Pearson has until 18.00 GMT on 16 December 2014 to respond to the charge.
Leicester are bottom of the table after failing to win since beating Manchester United 5-3 in September.
Supporters' groups have urged Pearson to say sorry, but he said: "I've had run-ins with fans in the past and sometimes, in the heat of the moment, these things happen.
"But there certainly won't be any apology, let's put it like that."
Leicester host Manchester City in the Premier League on Saturday.