Africa Cup of Nations: Genoveva Anonma raises Ebola concerns
By Sam Sheringham
BBC Sport
Last updated on .From the section African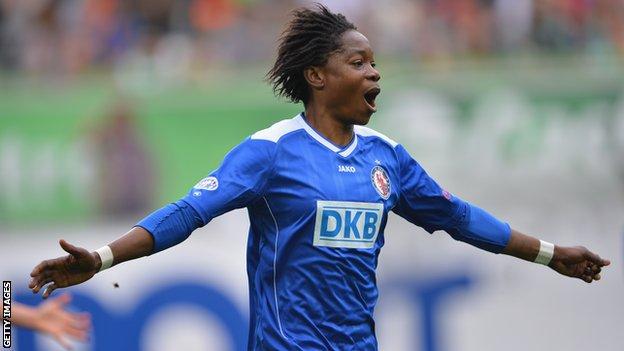 Former African women's footballer of the year Genoveva Anonma has called for the 2015 Africa Cup of Nations to be cancelled to avoid spreading the Ebola virus to her home country.
Anonma said: "I am afraid for everyone. They should cancel it for the good of humanity and the good of our country."
The Equatorial Guinea government insists it can control the threat.
The Ebola outbreak in West Africa was first reported in March 2014, and has rapidly become the deadliest occurrence of the disease since its discovery in 1976.
Up to 15 December, 6,856 people had been reported as having died from the disease in six countries; Liberia, Guinea, Sierra Leone, Nigeria, the United States and Mali. The total number of reported cases is more than 18,000.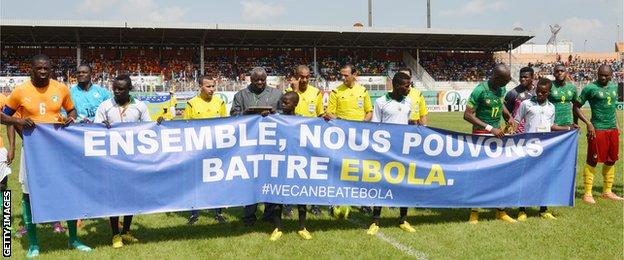 Anonma, who finished top scorer when her country won the African Women's Championship on home soil in 2008 and 2012, is deeply concerned.
"There is an 80% risk that the virus could contaminate our country but what can we do? We have to accept it," the 27-year-old forward told BBC World Service.
"We are a small country and we don't want things like this in our country,
"I have family there. My grandparents, my cousin, my aunt and uncle. My mother and my father are there too - everyone is there."
The Equatorial Guinea government and organisers have played down Anonma's concerns.
They point to measures being taken to combat the Ebola threat for the finals, which take place between 17 January and 8 February, including:
All passengers arriving at Malabo international airport from abroad are having their temperature checked

Passengers are being photographed and having their fingerprints taken

They must fill in medical history forms and show yellow fever certificates

Fans at stadiums are being sprayed with hand sanitizer at the turnstiles

30 Cuban doctors, who are specialists in epidemiology, have been drafted in
Deputy Sports Minister Ruslan Obiang Nsue told BBC World Service: "If we didn't have the means to control Ebola we would never have accepted to host the Africa Cup of Nations.
"The fact we have accepted to host the Africa Cup of Nations it was because we had all the confidence that we had the technical and health means to control Ebola.
"If something happened here we would take the people that are ill straight away to isolation."
Anonma, who plays for Turbine Potsdam in Germany, became the first foreigner to win the Bundesliga top scorer award with 22 goals in the 2011-12 season.
She was named African Women Footballer of the Year in 2012.
Although she would prefer it not to be taking place, Anonma hopes the Cup of Nations can alter the image of a country associated with human rights abuses and corruption.
"Lots of the accusations about Equatorial Guinea are false," she added. "All the Guinean people are free to do what they want and they do.
"I think the Cup can help a lot. Organised events bring people in to see our country. They can see bad things, good things, see how the country works."