Jose Mourinho: John Terry is happy again at Chelsea
Last updated on .From the section Football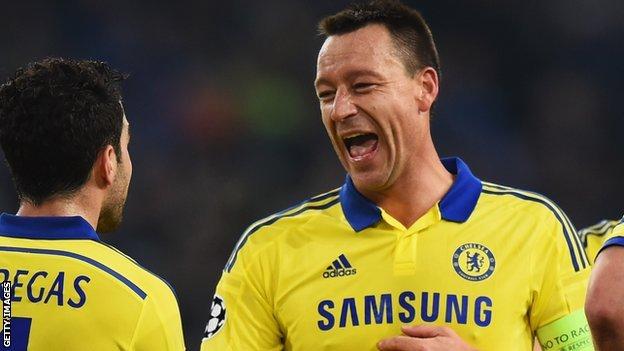 Chelsea boss Jose Mourinho believes John Terry is happy and enjoying football again after undergoing an uncertain period at the club.
Club captain Terry, 34, was hampered by back and knee injuries two seasons ago.
But these seem to have abated and it appears likely the club will offer him an extension to his deal, which expires at the end of the season.
"He's playing well in a team that is playing very well, a team full of confidence," Mourinho said.
"The way he is taking care of himself is very important too. The medical department and my fitness coaches, in recovery and prevention, are working very well.
"But the most important thing of everything is to be happy.
"I read once a famous neurologist who said: 'We docs always say do exercise, eat properly, be careful with salt, be careful with this or that protein, but we forget to tell people the most important thing. Be happy.' I think John is this.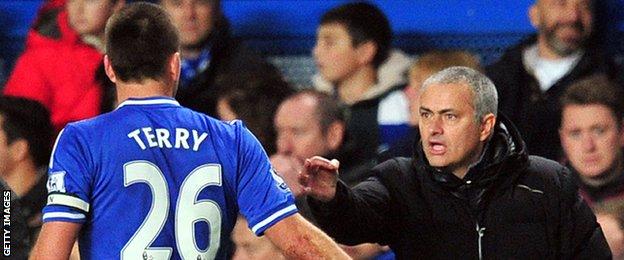 "He had a period here where he had so many doubts, so many question marks: is he still the same player? Can he play at this level still? Is he fit? Will he play or be in the stands?
"Then, suddenly, the happiness arrives and look at him. The reality is he played so well last season and has this season too."
Terry, who has made 20 appearances for Chelsea this term, is likely to return to the line-up for Saturday's Premier League match at home to Hull, having sat out Wednesday's 3-1 Champions League win over Sporting Lisbon.
And Mourinho hinted Terry could continue at the top level beyond this season.
"Every player is an individual," the Portuguese added. "There are old players at the age of 22 - I know some - and young guys at 36 or 37. John is one of them.
"I had in Inter [Javier] Zanetti who was already 37. When the other guys came after a day off from training, he'd run from his home to burn off the energy that had built up from his day off.
"I don't know [how long John can play]. The important thing is that, against Hull, he will be in great condition to play."