Ally McCoist: Where does manager decision leave Rangers?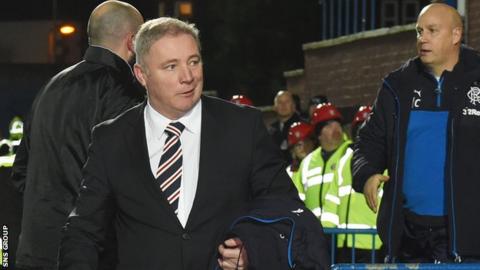 By handing his notice to the Rangers board, Ally McCoist has begun a new storyline in a saga that shows little sign of abating.
Drama has become inherent at Ibrox. McCoist is an iconic figure at the club - the record goalscorer, as a player he accumulated trophies and acclaim - but his time as manager has coincided with some of the most traumatic days of Rangers' history.
He has now activated the 12-month notice period of his rolling contract. If the Rangers directors want him to leave sooner, then they will need to pay him a year's salary, or negotiate a settlement.
The only other alternative is to put him on gardening leave and employ another manager. Yet the indications from figures inside the club are that McCoist will stay in place, not least because the club is in financial strife.
Why has McCoist decided to hand in his notice?
There have been times in recent weeks when the manager has felt as though the job has been taking its toll on him physically and emotionally. During three-and-a-half years in charge, he has had to manage through the crises of administration and liquidation.
He has also had to cope with the chaotic regimes of Craig Whyte, who turned out to once have been banned as a director and who borrowed the money to buy the club by effectively mortgaging future season ticket sales, and Charles Green, whose charisma initially won over fans but whose tenure was beset by financial upheaval and boardroom infighting. The latter ended up clashing publicly with McCoist.
In recent weeks, McCoist has been affected by the departure of long-serving administration and ground staff, including the manager's secretary, who had served many of his predecessors. He was also told at a meeting last week that no employees of Murray Park, the club's training ground, would be made redundant, only for some to then be told they would be leaving.
The manager has also been aware of figures within the boardroom who wanted him out. By handing in his notice, he has taken the initiative, rather than sit and wait for others to eventually oust him.
What is the financial state of the club?
The accounts to the end of June 2014 showed Rangers International Football Club plc made an operating loss of £8.3m, compared to £6m the previous year. Mike Ashley, the owner of Sports Direct and Newcastle United, loaned RIFC £3m to meet working capital requirements to the end of December, but the club needs additional finance.
The accounts contained a note from the auditors indicating a material uncertainty that the business could continue trading as a going concern for the next 12 months. It is still spending more money than is coming in.
In the accounts, the directors revealed £8m is required in new money - assuming that season ticket sales return to normal next summer - and that this funding needs to come in by January. In the meantime, working capital requirements will need to continue being met through loans.
How did it come to this?
There is less revenue in the lower leagues, but the operating costs for a club the size of Rangers remain relatively fixed.
The wage budget has come down in recent seasons, although it remains the second highest in Scotland.
It cannot be significantly reduced from its level of around £6m because players are on contracts, so would need to be sold or paid off. There are few suitors for the current squad members, while players are reluctant to leave because they are unlikely to receive the same wages elsewhere.
Fans are also disenfranchised. With around 15,000 not having renewed their season tickets last summer, the main revenue stream has been reduced.
Some supporters are disgruntled at the team's performances and form under McCoist, but the more damaging issue is lack of trust between the fans and the directors.
What is happening in the boardroom?
Chief executive Graham Wallace and finance director Philip Nash departed in October after Ashley's loan offer was accepted by the board. Neither has been replaced.
Rangers raised around £3m from a share issue in September to try to meet the working capital needs until the annual general meeting - which will be held on 22 December - but that was not enough and fresh funding was required.
A £16m investment offer was made in October by a consortium involving former Rangers director Dave King, but this was rejected. Chairman David Somers said there was no proof of funding, but the consortium said they made it clear they would provide the necessary proof as soon as the board recommended their offer to the shareholders for approval. This never happened.
The consortium wanted boardroom control in return for their investment. A bloc of shareholders represented by Sandy Easdale, the chairman of the Rangers Football Club board but not a director of RIFC plc, hold 26% and could veto any issuing of new shares in return for investment.
This bloc has been at the club since Green launched the RIFC shares in an initial public offering in December 2013 and have resisted all attempts at ceding their influence.
Ashley made his loan offer in the business's hour of need, although there was also a loan offer from Brian Kennedy, the owner of Sale Sharks rugby club and an ally of some members of the King consortium. This was also rejected.
What is Mike Ashley doing with Rangers?
The end game for the Sports Direct owner is unclear. When he bought his initial shareholding two years ago, he agreed an undertaking with the Scottish Football Association not to own more than 10% of Rangers and not to exert any influence on the boardroom.
The SFA's rules prohibit any individual owning shares in two clubs, but a compromise was reached with the Newcastle United owner.
With the appointment to the board in November of Derek Llambias, the former Newcastle managing director and a long-time Ashley ally, the undertaking appears to have been breached, and this is being investigated by the SFA. Llambias and Barry Leach, a Sports Direct executive, have been prominent at Ibrox in recent weeks, including quizzing staff about their roles and budgets.
Since their arrival as consultants, redundancies have been made. McCoist has also revealed he held discussions about transfer activity in January with Llambias rather than Somers. The perception is that Ashley is influencing events at Rangers.
Sports Direct has a retail agreement with the club, which explains Ashley's interest. But if he was to underwrite a share issue in January, he would likely end up being in further breach of the SFA undertaking.
Given Uefa's regulations, Newcastle and Rangers also could not play in the same European competition, in the future, should Ashley remain a shareholder in both.
So, what happens next?
In terms of finances, shareholders are likely to vote at the AGM to allow the board to hold a share issue to raise fresh funds.
It remains to be seen whether Ashley uses this to up his stake in the club, or if the King consortium, whose £16m funding offer remains on the table, or if others are allowed the opportunity to invest.
As for McCoist, he is now in a stand-off with the board. He is happy to work his notice, and remains confident he can guide the team to promotion to the Scottish Premiership, but Friday's 2-0 defeat by Queen of the South leaves Rangers nine points behind Championship leaders Hearts, who have a game in hand.
Supporters had been turning on McCoist as the team dropped points this season, and further setbacks will not be tolerated. Yet the board cannot remove the manager without a financial settlement.
Rangers remain, on and off the field, a broken club.