Motherwell: Hutchison had say in Baraclough appointment
Last updated on .From the section Football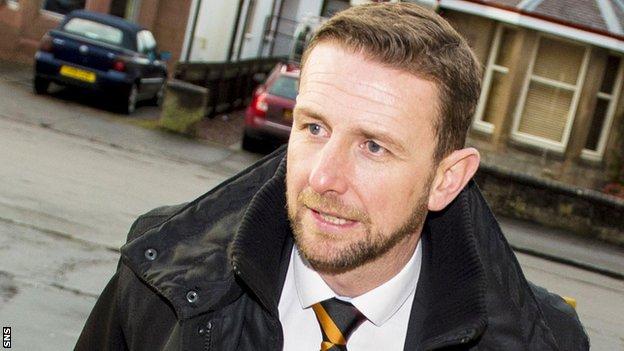 Prospective owner Les Hutchison has confirmed he was involved in the process of appointing Ian Baraclough as Motherwell's new manager.
Hutchison intends to transfer ownership of the club to the Well Society group.
"I ultimately, with other members of the board and the society, interviewed Ian," he explained.
"I was very impressed with Ian, his energy, his enthusiasm, his professionalism, his scouting ability, his ability to succeed in Sligo. For us, he ticked a lot of boxes and we look forward to working with Ian."
Baraclough watched from the stand as the Steelmen drew 2-2 with Ross County on Saturday and will take charge for the first time against St Mirren on 20 December.
The deal to buy former Motherwell chairman Boyle's stake is nearing completion.
"All parties have an intention and a commitment to see the process through to a conclusion," said Hutchison on BBC Radio Scotland's Sportsound programme.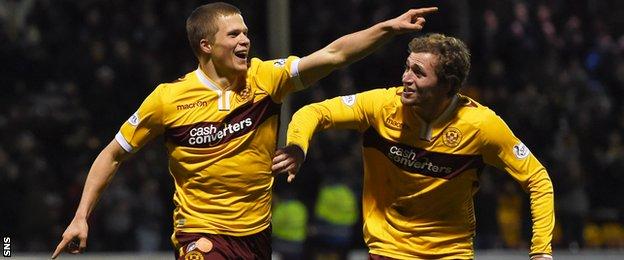 "It is my sincere hope that, within a five-year period, the ownership of the club would be transferred to the fans.
"What I'd like to do is to ensure continuity so I've requested that two of the existing directors continue. I've asked Brian McCafferty [from the Well Society] to chair the board to assure the fans that this is a move toward fan ownership.
"I'll be bringing in two or three people, including my daughter who has a financial background, and a Motherwell supporter.
"I would emphasise that all of the people that get involved will be doing so freely, there's no pay involved at all. This entire exercise is a philanthropic one, with hopefully a very positive outcome for the Motherwell area."
Meanwhile, Hutchison says he will sell his shareholding in Rangers if it becomes an impediment to his involvement at Motherwell.
"If it does become an issue, I would dispose of the shares," he said of his stake in Rangers.
"My understanding from my legal team is that's is not an issue. The only reason I wouldn't dispose of them quickly, if I had the choice, is purely to try and live in the hope that at some point it may in fact return to a reasonable level again.
"I made a purely financial investment when Walter Smith took over as chairman of Rangers. I thought there may be an opportunity to see some growth.
"I have to say it's not one of my better decisions having to look at that and watch the demise of my shareholding over time. Obviously, that shareholding is extremely small."